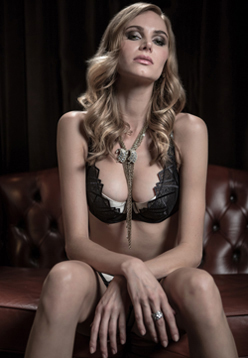 A double chin is a common problem that can develop at any time. According to American Society for Dermatologic Surgery, a double chin is a concern that affects 68% of Americans. Causes include aging, weight gain, genetics, and posture. Fitness experts recommend many kinds of exercise to address this aesthetic concern, but these do not work for everybody. Cosmetic surgery can provide the answer. The latest option is KYBELLA, the first and only double-chin injectable treatment. Today, more and more men and women are choosing Kybella in NYC to reduce chin fat and achieve a sculpted jawline – without undergoing surgery.
The innovative, FDA approved Kybella double chin treatment is designed to treat the "submental fat" and dissolves fat cells through a series of injections. This non-surgical injectable that permanently destroys fat cells under the chin contains a naturally occurring substance – deoxycholic acid – which is already present in the body. When injected into a double chin, the fat cells break down and are reabsorbed by the body. The submental fat is dissolved permanently, without harming the surrounding tissues. Once destroyed, these cells can no longer store or accumulate fat. Multiple treatment sessions are usually required to achieve the desired results. Recovery time and downtime are much quicker and easier compared to invasive chin liposuction surgery as this injectable treatment does not require anesthesia or incisions.
As part of the global clinical development program, more than 1600 people worldwide were treated in clinical studies with Kybella. Up to 79% of those treated reported improved satisfaction with the appearance of their face and area beneath the chin 12 weeks after the last treatment.
According to an article in The Atlantic, an interesting trend has come up in market research and studies – KYBELLA is bringing in a totally new group of injectable customers. According to the report, around 45% of patients who are getting KYBELLA are those who haven't visited a cosmetic or aesthetic physician's office before. Moreover, the procedure is also attracting men who want to sharpen their jawline. It seems that a younger group and millennials are also interested in this injectable treatment.
Kybella is especially attractive to patients who don't want to sit in the office for hours. Each in-office the treatment session typically takes 15-20 minutes to complete. This treatment can be thought of as a "lunchtime neck lift". Even though the procedure is non-surgical, bruising and swelling can be expected, but don't last long. Swelling is expected to last about 20 to 28 hours after the procedure, and will most likely go away after 48 hours. However, the time taken for swelling to subside actually depends on the dose you receive and your skin. For most patients, swelling and bruising resolve after a few days. Recovery is relatively fast and patients are advised to avoid strenuous activity for the first 48 hours. Visible results can be seen 3-4 weeks post procedure. Up to 6 treatments may be required for optimal outcomes.
To benefit from optimal outcomes, it is important that you choose an expert plastic surgeon in NYC who has extensive experience in administering Kybella injections. Treatment at a reliable AAAASF-accredited plastic surgery practice is crucial to ensure compliance with the highest standards of care and patient safety. In such practices, patients can expect customized treatment and individualized attention till complete recovery.