InMode, a leading global provider of innovative, energy-based solutions has announced the launch of two new non-invasive solutions – EVOKE, an all-in-one hands-free facial remodeling device and EVOLVE, the ultimate in hands-free non-invasive thermal body & skin treatments.
bodySCULPT®, a leading plastic surgery practice in Manhattan, New York City (NYC) is one of the first plastic surgery centers in the U.S to introduce these unique and innovative state-of-the-art technologies. bodySCULPT® plastic surgeons Dr. Christopher Chia and Dr. Spero Theodorou, who is also InMode's Chief Medical Officer, have extensive training in both these innovative procedures, and ensure effective treatment tailored to your requirements. Dr. Theodorou is also responsible for the development of all of InMode's procedures, clinical studies and training.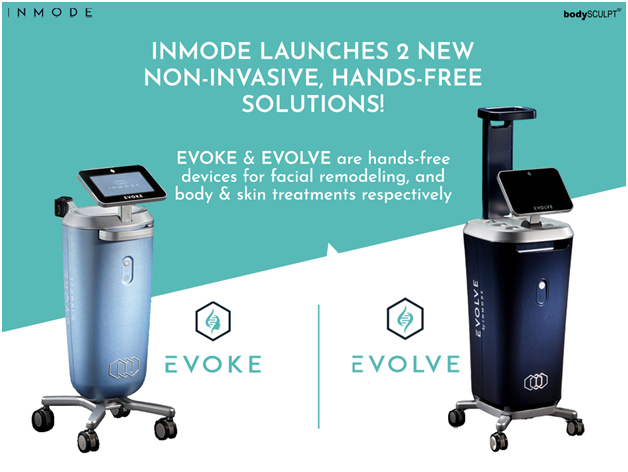 EVOKE: Noninvasive Technology for Facial Remodeling
InMode's EVOKE is the first and only FDA-cleared, all-in-one hands-free facial remodeling device. This state-of-the-art thermal skin rejuvenating platform remodels facial tissue and delivers the ultimate in thermal facial procedures. Facial remodeling is one of the top aesthetic procedures patients seek as they want to achieve a youthful appearance without invasive surgery and related concerns. Evoke's proprietary non-invasive technology is an industry-first in delivering a structural re-organization of the facial and neck tissues resulting in a three-dimensional remodeling. The treatment rejuvenates your face, neck, chin, cheeks and jowls with no anesthesia, surgical scars or downtime.

The device uses proven bipolar radiofrequency energy to sub-dermally remodel the facial tissues for a more defined neck and jaw line. It comes with features such as temperature monitoring and automatic, user-programmable, temperature on/off control. One of the major advantages of this treatment is that patients can surf the internet, read a book, and watch TV while treatments to restore youthfulness are being performed.
EVOLVE: Noninvasive breakthrough for body contouring.
InMode's EVOLVE another FDA-cleared treatment is the ideal non-invasive solution to remodel even larger body areas, and at the same time improve the appearance of your skin without surgical intervention or downtime. It's evident that body contouring procedures are in high demand in this era as it is many people's goal to stay fit and in shape. Body contouring in New York City is one of the most popular aesthetic treatments in the market, where in majority of cases, patients look for non-invasive procedures to improve their body shape without surgery or downtime. Evolve maximizes patient results and provides the highest quality of aesthetic treatments available.
Evolve helps to modify multiple areas of the body concurrently. The areas that can be treated include the abdomen, arms, flanks, hips, thighs, knees and buttocks. This all-in-one platform delivers multiple proprietary technologies on one system and provides a variety of aesthetic treatments tailored to each body type.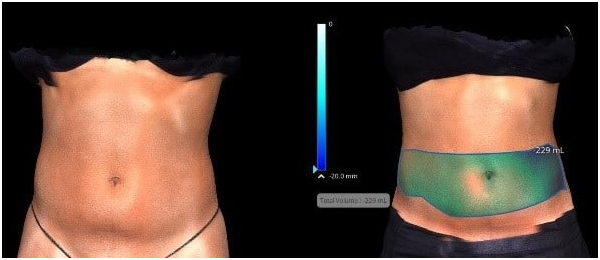 The next generation of non-invasive, hands-free technology, Evolve is designed to remodel skin, target adipose tissue and tone muscles. Each purpose is met with treatment that is meant for it, such as:
EVOLVE TITE: A body and skin remodeling treatment that leverages clinically proven radiofrequency technology to provide the best aesthetic outcomes. This device was developed based on the clinical success of the proprietary A.C.E. (Acquire, Control and Extend) technology. For EVOLVE TITE, bodySCULPT surgeons recommend weekly sessions of 30-60 minutes over a six to eight-week period.
EVOLVE TRIM: A quick and easy non-surgical alternative to liposuction, EVOLVE TRIM is designed specifically to reduce the unsightly appearance of cellulite. This procedure is ideal to reshape your body along with improving the appearance of the skin, reducing dimpled skin, and improving elasticity. It leverages a combination of radiofrequency energy, deep tissue heating, and vacuum design to provide maximized results. Based on your personal objectives, reliable plastic surgeons will recommend optimal number of sessions.
EVOLVE TONE: It's ideal for those considering a non-invasive treatment to tone the muscles and address areas that require definition. EVOLVE TONE emits electromagnetic energy to stimulate involuntary muscle contractions. It's a lunch time procedure and surgeons recommend 4 sessions of 30 minutes each to be performed over a two-week period.
There is absolutely no recovery period or downtime associated with EVOKE or Evolve TITE, TONE or TRIM. Patients can return to normal activities immediately after these quick and painless treatments. Redness and warmth in the treated areas are common, which will subside after a few hours. Get the procedure done by a plastic surgeon with expertise in these treatments in an AAAASF-accredited plastic surgery practice to obtain optimal results.