"Losing fat" is on the agenda for a number of women this New Year. A new survey conducted by Kelton Research for the CoolSculpting(R) procedure revealed that women who planned to take the New Year's resolution to lose fat hoped to gain benefits beyond improved looks. The data sheet says more than 1 in 2 (51%) women put "losing fat" on their New Year's resolution list this year. The benefits they think to achieve include improved physical health (75%), confidence (65%), emotional health (55%) and sense of control. 1009 American women ages 25 – 54 participated in the survey held between November 24th and December 3rd, 2014.
About three-quarters of the women (77%) surveyed think that they feel their best when they look their best. Around forty percent of the women surveyed admitted that they couldn't find time to focus on enhancing their appearance while 50% said they couldn't invest time on their emotional health.
Let us look at some of the insights provided by the survey.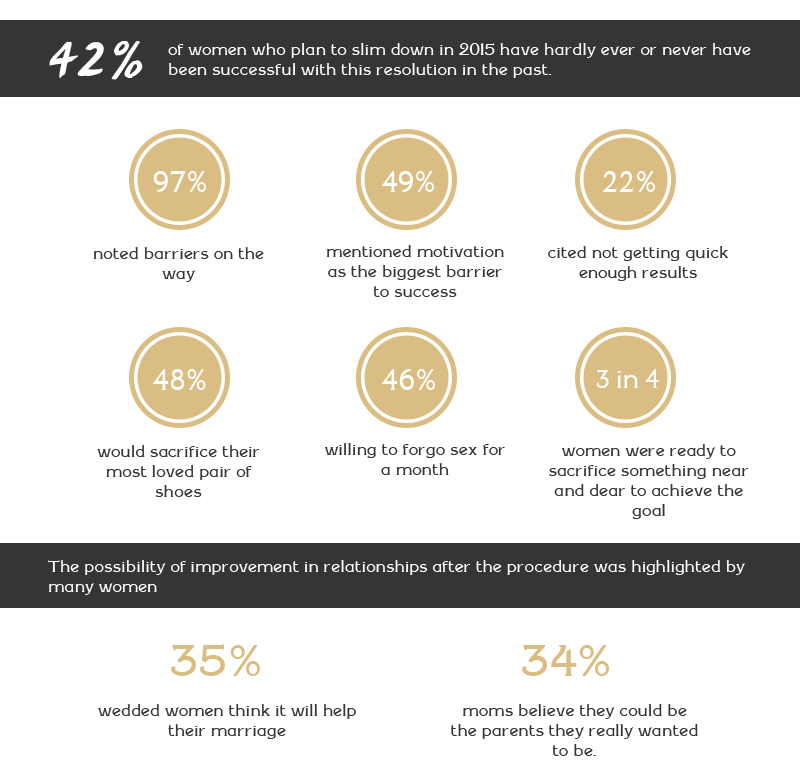 Achieving one's aesthetic goals is more of a reality now with many cosmetic procedures including non-invasive ones available at select plastic surgery facilities. Of course, when it comes to losing fat, exercise and diet should be tried first and cosmetic surgery can be used only as a last resort. The non-invasive procedure CoolSculpting(R) is a one-of-its kind device and has quickly become a highly preferred body contouring treatment. Nearly 1.5 million people underwent this FDA cleared, non-invasive fat reduction treatment in over 70 countries around the world. The procedure has no downtime and results can be seen as early as 3 weeks and dramatic results in 3 months. With this targeted cooling process, no surrounding tissues are harmed and the treated fat gets removed through the body's normal metabolic process.