Non-surgical / Non-invasive Chin Lift
Is double chin or "turkey neck" a major concern for you? But you don't want to undergo any invasive surgery? Then consider non-invasive chin lift.
A non surgical chin lift can rejuvenate and tighten your chin without surgical scarring or lengthy downtime. An established plastic surgery practice based in Manhattan, NYC, bodySCULPT® provides safe and efficient non-invasive chin lift in NYC using state-of-the-art techniques and technology.
We provide non-invasive chin lift procedures using InMode devices – InMode is a leading global provider of innovative, energy-based solutions. Our plastic surgeons are dedicated to helping men and women achieve their aesthetic goals safely and effectively.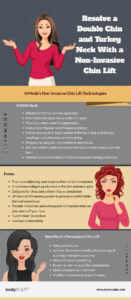 Non-invasive Chin Lift Procedures at bodySCULPT
For non-surgical chin lift, we use the technologies:
The non-invasive aesthetic treatments from InMode – targeting the chin and neck – are safe, effective options to achieve the desired results without surgical scarring or lengthy downtime. These treatments offer skin and tissue remodeling to improve the appearance of the skin for anti-aging benefits.
EVOKE Neck: A Non Surgical Chin/Neck Treatment That Zaps Away Chin Fat!
The industry's first hands-free applicator, EVOKE neck by InMode is designed specifically to address the neck and submental areas. The radiofrequency energy remodels the deep tissue in the chin and neck areas for providing a more youthful appearance.
InMode EVOKE treatment in NYC is a revolutionary, non-invasive, hands-free facial remodeling technology. Using proven bipolar radiofrequency energy, EVOKE'S proprietary non-invasive technology delivers a structural re-organization of the facial and neck tissues resulting in a three-dimensional remodeling. Its hands-free facial applicators deliver uniform and volumetric heating to the skin and subdermal layer.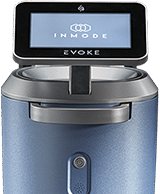 With no surgical intervention, anesthesia, surgical scars or downtime, the platform revitalizes submental areas such as the:
Patients can surf the internet, read a book, or watch TV when the treatment is being performed.
We are one of the first plastic surgery centers in the U.S to introduce EVOKE technology. Our plastic surgeon, Dr. Spero Theodorou, who is InMode's Chief Medical Officer, is responsible for the development of all of InMode's procedures, clinical studies and training.
Our plastic surgeons, Dr Theodorou, and Dr. Christopher Chia are experts in body contouring techniques.
Check out our patients non surgical chin lift before and after photos
Forma: A Non-invasive Procedure for Increased Collagen Production in the Chin and Neck Area
Forma, the non-surgical chin/neck lift in NYC, is the first auto-adjusting, non-invasive thermal skin treatment. It is designed for deep and uniform tissue stimulation. The treatment utilizes radiofrequency power to provide patients a comfortable thermal experience with immediate and subsequent contraction that helps to make them look years younger.
The procedure uses Optimas workstation to deliver a non-invasive and pain-free treatment.It stimulates the formation of new collagen and improves the skin's elasticity for long-lasting and remarkable results.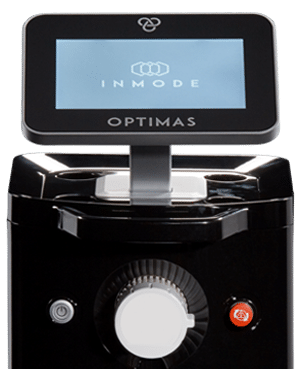 Forma effectively treats the:
There is no downtime in this effective "lunch-time" procedure.
Both these treatments offer skin and tissue remodeling to improve the appearance of the face and neck for anti-aging benefits.
Schedule Your Consultation
If you are looking for a non-invasive chin lift in NYC, then schedule your consultation with our practice to know more about the procedures we provide. Call 1-800-282-7285 or send an email to info@bodysculpt.com. Or make use of our virtual consultation to talk to us from the comfort of your own home.