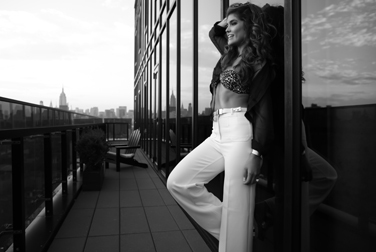 Back fat or bra bulge is a common aesthetic concern, with stubborn fat in this area not responding to strenuous exercises or a healthy diet. It can make you feel very self-conscious, especially in tight-fitting dresses. Body contouring is a helpful solution in this regard. However, you may not wish to go under the knife to get rid of excess body fat. Then, CoolSculpting in NYC or fat freezing in NYC is the best option to choose. It is a non-surgical fat reduction treatment option for patients close to their ideal weight with stubborn deposits of fat in particular body areas. It is an effective noninvasive body contouring solution for both men and women who are not willing to go under the knife to meet their aesthetic goals.
What is back fat? Over time, the muscles on your back and the skin begin to sag resulting in pockets that fill with fat, which then tend to bulge out. As this specific area does not respond to exercise or diet to eliminate excess fat, it was liposuction that was typically used to remove back fat. However, liposuction has to be performed very carefully as the muscle and tissue in the surrounding area could get damaged. Moreover, this area is more prone to scarring. The CoolSculpting procedure avoids all the above mentioned disadvantages of lipo and therefore is an innovative and effective procedure to treat back fat.
CoolSculpting was already FDA-cleared for treatment of double chin (submental area), to treat fat accumulation in the thigh, abdomen and love handles (flank); and in 2016 the procedure received an expanded clearance from the U.S. FDA (Food and Drug Administration) for the treatment of visible bulges of bra fat, back fat and underneath the buttocks. The highlight of the CoolSculpting treatment is that it involves no surgery, needles, or cannulas, and comes with little to no downtime.
This fat reduction technique helps the right candidates achieve an attractive body profile without the complications of invasive surgery. CoolSculpting or fat freezing in NYC is a safe, simple and effective procedure that destroys fat deposits gently and painlessly. The surgeon places the specifically designed cooling applicator on the treatment site. The controlled cooling technology targets only the fat deposits and destroys them. The dead cells are removed from the body in the course of a few weeks via the body's natural metabolic process. So, no suctioning is needed to remove the fat. The only sensations that patients experience during the treatment are intense cold and deep pulling and sensations of tugging and pinching in the treatment area due to the vacuum pressure.
CoolSculpting is the latest unique non-surgical fat reduction technology and is considered as a "lunch time" procedure because it can be done within 30-60 minutes and requires no downtime. There is only a minimal chance of scarring. Even though the effects are not as drastic or impactful as liposuction or other types of surgical fat reduction, CoolSculpting has the benefit of being easily undergone multiple times for optimal results. This has made the procedure immensely popular, as according to the American Society of Plastic Surgeons (ASPS) statistics, procedures that use special technology to "freeze" away fat without surgery increased 7% from 2016.
CoolSculpting works really well on back fat or bra bulge, as the device requires a "pinch-able" amount of fatty tissue to work on it. Most importantly, the skin on the back area is less sensitive, reducing any discomfort during the procedure.
Usually, the procedure fat freezing NYC removes 20-40% of the fat from the treatment area and the area can be retreated if necessary in the future. You can expect minimal complications such as swelling or bruising for up to several weeks immediately after the procedure. These minor complications are not long-lasting and usually subside over time. Some patients see results as early as 3 weeks after their first treatment and the most dramatic results are usually seen between 1 and 3 months following treatment. The duration of the session will vary depending on the number of areas treated at one visit.
If you are considering CoolSculpting for body contouring in NYC, do your research well and find a plastic surgeon trained and skilled in this innovative fat reduction technique. In reliable AAAASF-accredited surgical practices, you can expect personal attention and customized treatment to achieve your aesthetic goals. Keep in mind that to maintain the results of your CoolSculpting treatment, it is important stick to a healthy lifestyle with proper diet and exercise.