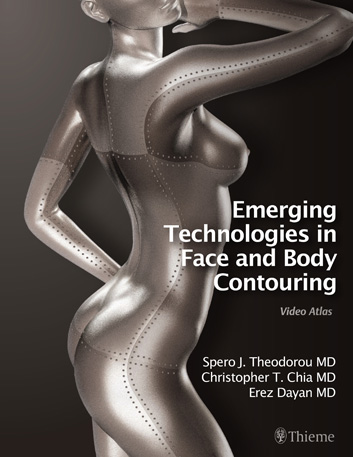 Emerging Technologies in Face and Body Contouring, an essential guide for all doctors who are interested in new technologies in body contouring and how to apply these for optimal results, by bodySCULPT plastic surgeons Dr Christopher T. Chia and Dr. Spero Theodorou will be available from 30 April 2020 onwards. Published by the prestigious medical publishing group Thieme, this work is a great addition to research literature in plastic surgery.
bodySCULPT® is a leading AAAASF-accredited plastic surgery practice in Manhattan, NYC, and Thieme, the award-winning international medical and science publisher, had selected bodySCULPT® plastic surgeons to write the first authoritative plastic surgery textbook on body contouring and technology.
Emerging Technologies in Face and Body Contouring mainly focuses on new developments in liposuction, which remains the most common aesthetic surgical procedure worldwide. Liposuction is a popular option for men and women looking to get rid of unwanted fat and achieve a well-shaped physique. It is also one of the best known and most requested plastic surgery treatments. According to a recent report from the American Society of Plastic Surgeons (ASPS), a total of 258,558 liposuctions were performed in 2018, an increase of 5% from 2017. Liposuction ranked among the five top cosmetic surgical procedures last year, along with breast augmentation, nose reshaping, eyelid surgery and tummy tuck.
Dr.Chia, Surgical Director at bodySCULPT, and Dr. Theodorou Founder and Surgical Director, bodySCULPT and CMO at InMode Ltd., have conceived Emerging Technologies in Face and Body Contouring as a mixed media product comprising an innovative video atlas that provides information on the newest emerging technologies in minimally-invasive body contouring. These DVDs provide comprehensive operative footage, while the accompanying manual takes readers through the techniques in a stepwise manner and explains the pros and cons of the new modalities with numerous patient examples.
You can pre-order the book at here
Dr. Christopher T. Chia is a fellowship-trained aesthetic plastic surgeon and he focuses exclusively on body contouring. This makes him a true leader in technology-based body contouring. He is a liposuction specialist, for which he utilizes the latest, most effective techniques available.
Dr. Spero Theodorou is an experienced and talented plastic surgeon who specializes in providing a full range of procedures designed to enhance your looks. He is committed to providing his patients with personalized care in a safe and trusting environment atmosphere with the highest regard for quality.