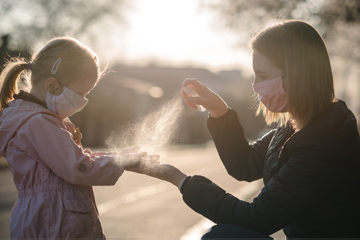 Several states in US and other countries are easing the lockdown imposed due to coronavirus restrictions. Nonessential businesses such as restaurants, stores or other businesses are set to reopen to get the economy up and running again. With the easing of coronavirus restrictions, people will tend to visit public places such as restaurants, malls, and salons. Many people will be planning to meet their friends or going out for shopping. However, the important thing to remember is coronavirus will not disappear instantly and completely. The risk of becoming seriously ill from COVID-19 won't go away until we have access to a vaccine. So, it's important to continue taking the necessary precautions when restrictions are eased because life won't suddenly return back to normal once this lockdown ends. CNET reported California Gov. Gavin Newsom as saying: "If we all pull back, we could see a second wave that makes this pale in comparison."
People need to need to continue be careful and take good care of their health. The following are five important things you should not do immediately after the lockdown ends:
Not wear a face mask when you go out: 'Precaution is better than cure' and this saying is very applicable in case of the use of face masks. The Centers for Disease Control and Prevention (CDC) encourages wearing a face mask when going out in public as a voluntary health measure in areas with high transmission rates, and in places where people can't maintain social distancing of six feet. The recommendation applies to face masks and coverings you make at home or buy.
Don't stop washing hands: Even if the spread of COVID-19 comes to an end, don't stop washing your hands because it's a good habit. Practicing hand hygiene by washing your hands regularly will protect you against the coronavirus and can also keep several other diseases at bay. Give your hands a thorough wash for the recommended 20 seconds to prevent the spread of illness.
Not maintaining a safe distance: Along with using a face mask and washing your hands, you need to practice social distancing. According to a group of Harvard disease experts, some form of intermittent social distancing may need to be in place until 2022 (weforum.org). Until herd immunity is achieved, proper physical distancing measures and frequent hand washing may need to remain in place after the lockdown has been lifted.
Shop for entertainment: The main idea of stay at home efforts is to keep you from transmitting the virus to others or acquiring it yourself. When restrictions are lifted, people will tend to try and resume normal activities such as shopping. However, indulging in a post-coronavirus shopping spree can be very risky. Shop only when you need to.
Don't party in clubs or bars: Protect yourself and your family by avoiding social gatherings as much as possible, because, with large number of asymptomatic COVID-19 cases coming up, you might never know who is infected and who is not. So it's ideal to avoid big parties in clubs and bars. "Continuing the weekend tradition of packing the bars is selfish and reckless during this pandemic", says an article in the New York Times.
Remain cautiously optimistic about regaining your freedom to move, but remain realistic that we don't know what the future holds (cnet.com).