The first prospective study to evaluate a handsfree thermoregulated bipolar radiofrequency device for face and neck contouring was published in the March 2022 issue of Plastic and Reconstructive Surgery (Volume 10, Issue 3). The study, titled "A Prospective Trial: Handsfree Thermoregulated Bipolar Radiofrequency for Face and Neck Contouring", is authored by Erez Dayan, MD, Anne Chapas, MD, and Joseph Marte, MD, and bodySCULPT plastic surgeons Christopher Chia, MD, and Spero Theodorou, MD.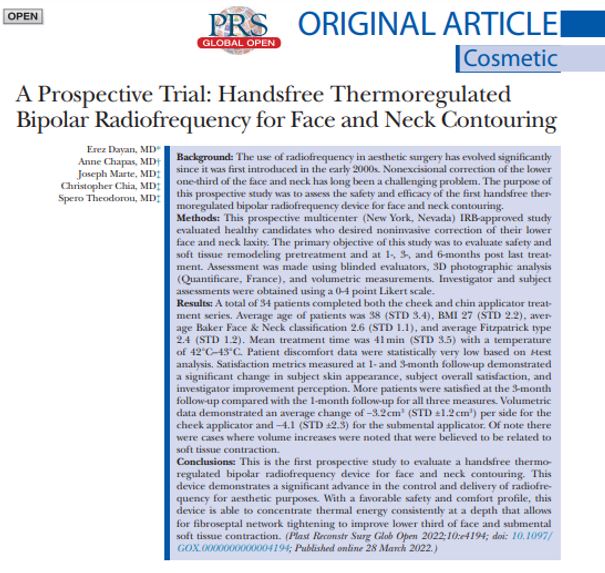 There are various cosmetic surgical options to address facial aesthetic concerns. Plastic surgeons in NYC offer a wide range of impressive noninvasive and minimally invasive treatments to rejuvenate facial appearance.
Noninvasive correction of the lower face and neck has always been a challenge. Since its introduction in the early 2000s, RF energy has evolved significantly and has emerged as a safe and effective technique to produce soft tissue contraction in body contouring. The study prospectively evaluated InMode's EVOKE, the first "hands free" thermoregulated noninvasive bipolar radiofrequency technology specifically intended to target lower one-third of the face soft tissue laxity.
According to the study, EVOKE is the first device designed to provide soft tissue contraction through noninvasive bipolar radiofrequency in an automated delivery process. To assess its safety and efficacy, the researchers evaluated healthy candidates who desired noninvasive correction of their lower face and neck laxity.
A total of 34 patients completed both the cheek and chin applicator treatment series.
Average age of patients was 38 with BMI of 27
Mean treatment time was 41 min with a temperature of 42°C–43°C.
The study's primary goal was to evaluate safety and soft tissue remodeling pretreatment and at one, three and six months post last treatment. Findings indicate that more patients were satisfied at the three month follow-up compared with the one month follow-up for all three measures. RF technology used produced two effects:
Soft tissue contraction
Adipose remodeling
According to the study, InMode's EVOKE represents significant development in the delivery and control of RF energy. It is also the first device to provide a handsfree treatment modality, which could be placed on the patient, pre-set to target temperatures, and activated, not requiring manual provider application. The device automatically reaches target temperature within 1–2 minutes and regulates energy delivery consistently throughout the treatment.
The authors concluded that the EVOKE device demonstrates a significant advance in the control and delivery of radiofrequency for aesthetic purposes. With a favorable safety and comfort profile and consistent energy delivery, EVOKE is an ideal option to remodel soft tissue by tightening skin, and improve the appearance of the lower third of face and submental region.