FAQ
Q: How is
body

SCULPT

® different?

A: bodySCULPT® is the only plastic surgery group in NYC to focus exclusively on body contouring. Our name says it.
Our plastic surgeons are fully trained in all aspects of aesthetic plastic surgery. They focus on body contouring exclusively, and the more a surgeon does a particular procedure, the better he gets at it. This accounts for their expertise.
We performed the highest number of Smartlipo treatments in the country.
Our surgeons authored the largest published series of Smartlipo procedures in the US
Leaders in the field of body contouring, they are teaching faculty to ASAPS members. They are also section editors for the prestigious Aesthetic Plastic Surgery Journal.
Front-runners in the use of local anesthesia for aesthetic procedures, they authored the largest published series in the US for laser-assisted liposuction under local anesthesia.

body

SCULPT

® surgeons are specialized in diverse body contouring procedures ranging from liposuction to breast augmentation, face lift and neck liposuction. They use the most modern, advanced body contouring technology.
Our plastic surgeons are the first to do Brazilian Butt Lift (BBL) under local anesthesia. Also performed as a weekend procedure, BBL offers benefits such as safer procedure, less bruising, less pain, less down time and no hospital stay. Get your body beach ready in two weeks.
We can offer you the highest standards of plastic surgery and patient care.
Q: What technology works? What is best for me?
A: "We figure it out so you don't have to." Leaders in technology-based body contouring, our surgeons are at the forefront in using cutting edge technology for body contouring. During your consultation, they will help you navigate through the myriads of cosmetic surgery options.
Q: How is reconstructive plastic surgery different from aesthetic plastic surgery?
A: Reconstructive surgery is carried out to rectify abnormalities in parts of the body that are the result of birth defects, trauma, developmental difficulties, infection, cancer, or other diseases. It helps to restore or improve the functioning of the affected body part. Aesthetic plastic surgery, on the other hand, is aimed at enhancing or restoring a person's physical appearance or beauty, and uses surgical or medical techniques to contour areas of the face or body.
Q: Which parts of the body can be treated?
A: Plastic surgery can treat any body area that needs to be enhanced. This includes: breasts, abdomen, thighs, hips, buttocks, and more.
Q: How long does the plastic surgery procedure take?
A: This would vary with the particular situation, the procedure chosen, and the technique applied. The average duration of a surgery is between 2 and 3 hours. More complex cases might require several hours to complete.
Q: Where will my surgery be performed?
A: At bodySCULPT®, the plastic surgery procedures are performed in our surgical center, on an outpatient basis.
Q: What type of anesthesia will be administered for plastic surgery?
A: Most procedures are done under general anesthesia. Some techniques can be easily performed under local anesthesia, though this will depend on factors such as the type of surgery, length of surgery, complexity, and the patient's overall health.
Q: What are the common procedures performed on the breasts?
A: The most common procedures performed on the breasts are breast augmentation and breast lift.
Breast augmentation is a cosmetic surgical procedure designed to enhance the shape and size of a woman's breasts.
Another breast enhancement procedure, breast lift (mastopexy), raises and firms the breasts by removing redundant breast skin. The technique used varies according to the patient's needs and goals.
Q: What are the breast implant options available?
A: The two options available for breast augmentation are silicone gel-filled implants and saline breast implants. The implants are placed either above or beneath the chest muscle. The method used and incision location depend on the individual's breast anatomy, and preferences.
Q: What is SmartLipo Triplex? Is it a safe procedure?
A: SmartLipo Triplex is a laser-assisted lipolysis system that uses three laser wavelengths to liquefy and remove stubborn fat from virtually all parts of the body. It is a minimally invasive procedure that has great skin and tissue tightening effects.
Yes, SmartLipo Triplex is a safe, virtually painless procedure performed under local anesthesia.
Q: What is laser body sculpting? Who is a good candidate for this procedure?
A: Laser body sculpting, also known as "laser liposuction," is a technique that utilizes laser technology to melt stubborn fat deposits on the face or body. After the fat deposits have been liquefied, the fat is removed using a suction tool.
Laser body sculpting is ideal for men and women who have excess body fat that does not respond to diet and exercise. Ideal candidates should be in good health with normal body weight, and have realistic expectations about the results. A consultation with our plastic surgeons can help you determine whether you can undergo the surgery and the results that you can expect.
Q: When can I expect results from the SmartLipo laser sculpting procedure?
A: The final outcome will vary from person to person. You can expect to see the initial results within two weeks and the final results with optimal skin tightening effects, within six months.
Q: Can I have several procedures performed simultaneously?
A: It is not uncommon for plastic surgeons to carry out multiple procedures in a single surgery session. However, before you consider this option, you should weigh the pros and cons because there are chances of complications arising when multiple procedures are performed at the same time.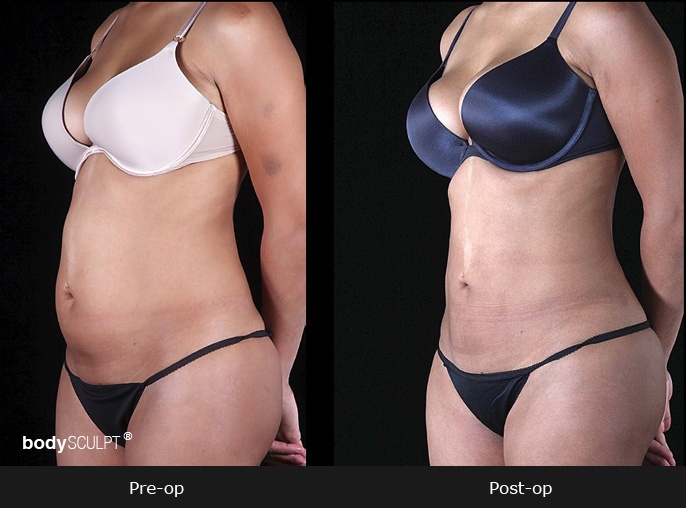 Before / After Photos
Check out these before and after photos of our NYC plastic surgery patients. See the amazing results our plastic surgeons have helped them achieve.
Photo Gallery