VASER Lipo

VASER Lipo is a minimally invasive liposuction procedure that will help improve your figure and eliminate fat. Plastic surgeons at bodySCULPT®, a leading plastic surgery practice based in Manhattan, New York City (NYC) are experts in performing liposuction procedures using this advanced modality.
The system can be used to remove fat from the following body parts:
Abdomen
Ankles
Arms
Back
Breasts (male and female)
Buttocks
Calves
Chin
Face
Hips
Knees
Love Handles
Thighs
VASERlipo® System for Effective Fat Removal
The VASER system uses ultrasound energy to remove unwanted fat, loosening the excess fat cells from other tissues so they can be gently removed through a small tube.
The procedure retains the viability of the fat cells for use in fat transfer.
The choice of probes, diameters, and groove patterns helps to get rid of both small and large volumes of fat, and use the right amount of energy to treat particular kinds of target tissues (soft, fibrous, or medium).
Both single and multiple areas can be treated.
Wide Awake Procedure
The procedure is minimally invasive, and you remain wide awake and comfortable throughout.
Depending on the number of areas being treated, the procedure can take as little as one hour or up to several hours.
Results are immediately noticeable after the procedure and will continue to improve as the body heals.
Final results are typically seen in about three to four months.
Key Benefits of VASERlipo
Superior body contouring
Single procedure results with speedy recovery times
Improved skin retraction and minimal blood loss
Easily removes large amounts of stored fat
Smoothes skin even in delicate areas like the arms and neck
Refines and accentuates the appearance of muscles
VASER Hi-Def liposculpture to Improve Muscle Definition
The fat around muscle groups is removed to give them more definition and create a sculpted, athletic appearance.
The procedure offers a flat stomach, well-shaped arms, and firm buttocks.
Women who wish to achieve a sleek, athletic look can also benefit from this treatment*.
We can combine your VASER Lipo procedure with a tummy tuck or body lift for superior results. Our plastic surgeons are experts in providing advanced non-invasive VASERshape treatment that blends ultrasound and massage therapy to treat stubborn fat deposits in multiple body areas.
Take a look at How VASERshape Works.
To schedule a consultation for VASER lipo body contouring, call 1-800-282-7285 or send an email to info@bodysculpt.com.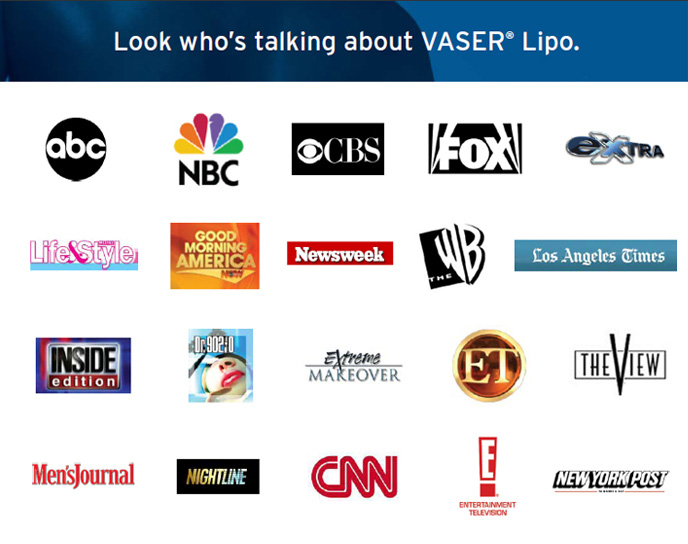 We are pleased to make available to you certain marketing materials, including service marks, logos, videos, television spots and before and after photography for your use in presentation regarding VASER Lipo® (collectively, "Materials"). These Materials remain the property of Sound Surgical Technologies LLC, and permission for their use is conditional provided the Materials are utilized only for VASER Lipo promotion and patient education purposes, and not utilized to market other products and services offered by your practice. We also request that the following text appears on the same page(s) as the Materials: "Courtesy of Sound Surgical Technologies LLC". In case of before and after images, credit must be provided near the images in all created materials to the appropriate surgeon who performed the procedures or to Sound Surgical Technologies LLC.
To protect the integrity of the Materials and the VASER Lipo procedure, we reserve the right to require you to cease using the Materials should we determine that any of your representation is deceptive or misleading, or that you no longer utilize the VASER System for your body contouring procedures.