BodyTite™ – Radiofrequency Assisted Liposuction
Based in Manhattan, New York City, bodySCULPT® is a plastic surgery practice that uses safe and advanced technology and techniques to help men and women meet their body contouring goals. We offer InMode BodyTite™ radio frequency-assisted liposuction (RFAL) to provide effective body contouring and cellulite reduction with noticeable skin tightening effects. Our plastic surgeons, Dr. Spero Theodorou and Dr. Christopher T. Chia, are inventors of the Scarless Arm Lift procedure (BodyTite on Arms).
This FDA cleared liposuction device uses patented RFAL™ (radiofrequency assisted liposuction) technology. It delivers radiofrequency energy to liquefy subcutaneous fat, coagulate blood vessels, and tighten the skin. Our plastic surgeons are experts in performing this safe, gentle and effective body re-contouring procedure that removes fat and firms the skin while leaving the surrounding tissues unharmed.
The BodyTite™ Liposuction Procedure
In the BodyTite hand-piece, RFAL energy passes from an internal cannula to an external electrode, delivering focused energy into the adipose tissue and fatty areas. The entire soft-tissue matrix gets heated. The handpiece simultaneously aspirates the liquefied fat and coagulates the adipose, fibrous, and vascular tissue. The heat generated helps tighten the skin quickly and the coagulation of the tissues helps sculpt the body to achieve the ideal shape*.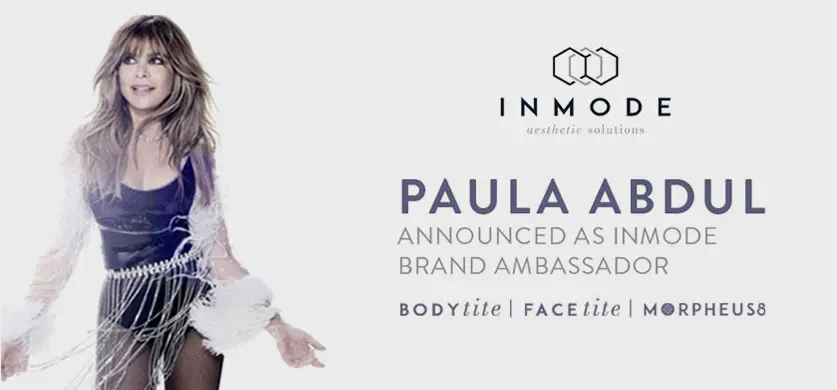 International Pop Icon, Paula Abdul has agreed to act as brand ambassador for InMode, the medical device company that has invented innovative technology for minimally-invasive aesthetic treatments. Inmode's solutions are clinically-proven to reduce treatment time, recovery time and deliver real results. Paula is bringing her renewed feeling of confidence and self-assurance to others who want the same benefits. Dr Spero Theodorou is also Inmode's Chief Medical Officer responsible for the development of all InMode procedures, clinical studies and training.
Benefits of Treatment at bodySCULPT®
The BodyTite™ radiofrequency assisted liposuction at
body
SCULPT
®
typically takes only 30-45 minutes and is virtually painless.
Our skilled plastic surgeons use this innovative technology to remove unwanted and stubborn fat from various areas such as the face, neck, chin, upper arms, abdominal areas, love handles, hips, inner thighs, knees, and buttocks. They have years of experience in performing the procedure. Having this body contouring treatment at our state-of-the-art plastic surgery center in NYC comes with many benefits:
Minimally invasive procedure
Only local anesthesia or light sedation required
Considerable fat reduction and effective body firming
No lumpy irregularities in appearance as is the case with liposuction
Reduced surgical trauma
Less downtime, treatment does not require overnight stay
Dedicated follow-up