bodySCULPT®'s leading plastic surgeons Dr Christopher T. Chia and Dr. SperoTheodorou will be participating in the prestigious 38th The Aston Baker Cutting Edge Aesthetic Surgery Symposium being held from November 29 – December 1, 2018 at The New York Hilton Midtown Hotel, New York City.
The 2018 Aston Baker Cutting Edge Aesthetic Surgery Symposium is a uniquely designed, innovative educational experience covering "Facial Rejuvenation and Total Body Sculpting: Surgical, Minimally Invasive and Non-Invasive Approaches".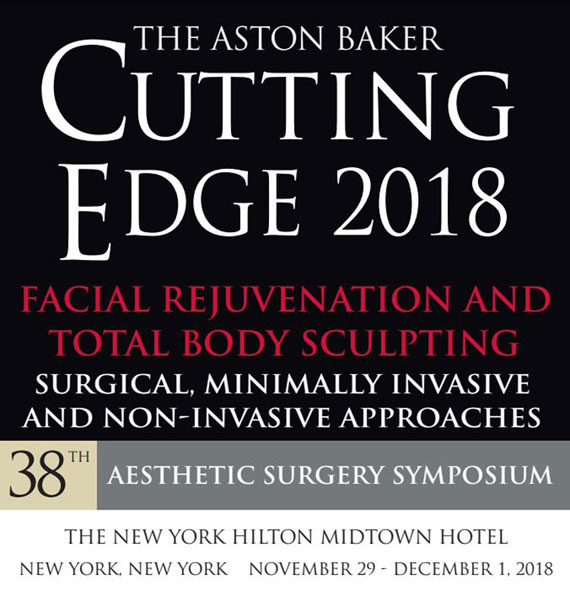 Chairmen of Cutting Edge Dr. Sherrell J. Aston and Dr. Daniel C. Baker, have brought together an outstanding faculty of renowned experts who are recognized worldwide as the innovators and developers of the most advanced techniques for face and body contouring. This expert, world-class faculty will present the most advanced clinical applications of established procedures and innovative new techniques and technologies for facial rejuvenation and total body sculpting. The symposium features 82 Lectures, 10 Panels, 4 Point/Counterpoint Debates with 9 Lectures, 7 Lightening Rounds, and 4 Live Surgeries.
The lectures will highlight the key steps of advanced techniques for face and body rejuvenation and contouring. The panels will:
Explore methods for facial and body rejuvenation and sculpting
Compare the complexity of procedures, technical details, longevity, complications and patient safety issues
Encourage debate between faculty members on philosophy, techniques, and controversial areas.
Dr.Theodorou will be lecturing on radiofrequency assisted liposuction, full body microneedling, and Buttocks Augmentation Using Local Anesthesia. Dr. Chia will be lecturing on Radiofrequency Face and Neck Treatment and Radiofrequency Assisted (RFAL) Liposuction with Excision for Gynecomastia Under Local Anesthesia.
"The Lightning Round" is an exciting new program segment that encourages audience participation and allows registrants to demonstrate their questions to the faculty and the audience using SnapCuts.
The lectures will demonstrate following:
The importance of accurate photography in aesthetic surgery
Clinical anatomy of the face as related to fillers and fat
Efficacy and long-term effects of fat grafting, long-term results of facial fillers, problems and how to treat them
Upper and lower blepharoplasty techniques that provide the appearance of unoperated eyelids
Surgical and non-surgical management of lower eyelid mounds and festoons
Facelift techniques that provide the appearance of unoperated facelift results
How to treat facelift complications
Surgical, non-invasive and minimally invasive corrections for facial and neck rejuvenation
Breast augmentation techniques, fat grafting to the breast, and how to treat complications and deformities related to breast surgery
Surgical approaches to gynecomastia including radiofrequency
Surgical sculpting of the abdomen, arms, back, thighs, and buttocks, including the most advanced techniques for liposuction and fat grafting
Surgical and non-surgical rejuvenation of the female genitalia
There will be live surgeries performed by expert surgeons. Dr. Chia will perform a live surgery on Face and Neck Sculpting with Radio-Frequency Assisted Lipolysis (RFAL) and Dr.Theodorou will perform Arm Sculpting with Radio Frequency. They will also be present in various panels along with other renowned plastic surgeons.