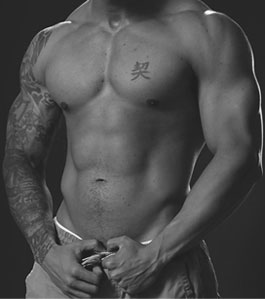 Chest implants for men are an ideal option for men who want well-defined pecs but cannot get the desired results even after spending hours in the gym. Pectoral implant surgery involves placing a solid silicone implant under the chest muscle to result in a sculpted, well-proportioned masculine torso. Here are the answers to frequently asked questions about the male chest implant procedure:
What is pectoral implant surgery?
Asymmetry or congenital underdevelopment of the pectorals might leave men feeling self-conscious, leading to a lack of confidence and low self-esteem. Pectoral implant surgery or chest implant surgery is the process of augmenting the size and shape of the chest while also enhancing contours and the appearance of muscle. The procedure results in a fuller, more masculine looking chest.
When should you consider chest implant surgery?
Chest implants for men are a good option:

If under-developed pectoral muscles make you feel self-conscious
If you think your chest is asymmetrical
If you are looking for volume improvement in the pectoral area

How is pec implant surgery performed?
Pec implants come in different sizes and shapes. Typically, the procedure is performed on an outpatient basis under general anesthesia and takes about two hours to complete. After numbing the treatment area, the surgeon will make an incision in the armpit and create a pocket under the pectoralis major muscle. The implants are then placed in the pockets. Sutures used to reconnect the muscle lining and close the skin will gradually dissolve in the body.

During the healing process, the implant becomes surrounded by the scar tissue pocket, where it stays permanently. The treatment causes only minimal injury to blood vessels, nerves, tendons and other tissues. With minimal bleeding and discomfort, the procedure comes with a short recovery period.

Who is a good candidate for pectoral implants?

One has to be an ideal candidate for pectoral implant surgery to obtain optimal results. At your consultation, the plastic surgeon will review your complete medical history and also perform a physical exam to determine your candidature for the procedure. If you are in good general health and have a positive attitude and realistic expectations, you are most likely a good candidate for the procedure.

How should I prepare for the chest implant procedure?

First, choose a reliable plastic surgery center that has well-qualified plastic surgeons who skilled in performing pectoral implant surgery. Follow your surgeon's preoperative instructions and have realistic expectations about the results. Here are some tips to prepare for the procedure:

Stop smoking at least two weeks in advance of your surgery to avoid risks of blood clots, strokes, or other complications.
Avoid anti-inflammatory medications, aspirin and certain herbal medications that could encourage increased bleeding.
Avoid using any lotion or shaving cream on your chest, arms, etc. since it would interfere with the procedure and recovery.
Arrange to have someone take you home after your operation and ideally, stay with you for your first night post-op.
Post-surgery, wear a loose-fitting button-up shirt (rather than a t-shirt) because your arms and chest may be tender
For safe recovery, stay hydrated before and after the procedure

How long does the surgery take?

In AAAASF-accredited plastic surgery practices in NYC, pectoral implant surgery is performed as an outpatient procedure and needs just one to two hours to complete.

What does recovery after chest implant surgery involve?

Mild to moderate discomfort is common after the surgery. You may have some pain when the anesthesia wears off. Your chest muscles may feel tight and you will be sore and stiff.

Recovery time will vary depending on individual considerations. Going by your surgeon's instructions on recovery is crucial for optimal results. Your surgeon may advise you to wear a compression garment after removing the bandages as it will keep you comfortable, promote healing, and reduce the risk of the implants moving out of position. Moreover, to speed up recovery, the surgeon will advise you not to lift your arms for two days after the procedure.

Follow your surgeon's instructions about care of your drains, taking the prescribed antibiotics, and level and type of activity that is safe. Incisions typically heal in about two weeks and the swelling, in about six weeks. You should inform your plastic surgeon if symptoms such as pain, redness and swelling take too long to resolve.

When can I resume work and exercise?

Usually, most patients are back at work and other normal tasks about one week after surgery. Your surgeon will advise you to avoid more strenuous activity, such as aerobic exercise and heavy lifting, for about 4-6 weeks after the procedure.

Expert surgeons say that, in most cases, men can continue to enhance their pectoral muscles after the insertion of chest implants. The muscle is not cut or damaged as the implants are inserted between the major and minor pectoralis muscles. So the muscle continues to grow with routine exercise and workouts.
A successful procedure greatly improves chest definition and muscularity. When pec implants are placed correctly, he implants would remain well hidden by the tissues and you won't be able to feel them that easily. To enjoy such outcomes, choose an AAAASF-accredited plastic surgery practice that has surgeons who are experienced and skilled in this particular procedure. Expert plastic surgeons in NYC will consider factors such as body type, symmetry, proportions and individual preferences and expectations to provide the best results.