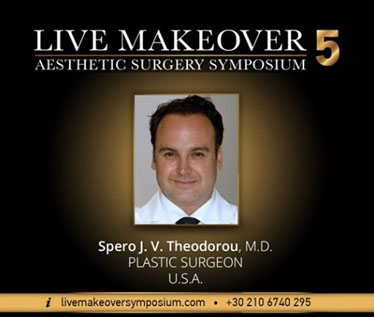 Dr. Spero J. Theodorou, MD, founder and Surgical Director of bodySCULPT®, performed a Live Surgery session, Arm Sculpting with Radiofrequency, using InMode's BodyTite Platform at the 5th Live Makeover Aesthetic Surgery Symposium, 2018. The symposium was held in Athens, Greece, on the 31st of August, 1st & 2nd of September 2018.
Live Makeover is a meeting that celebrates plastic surgery and aims at presenting to participants live multiple surgeries on selected patients, providing them with a complete makeover. The meeting's educational value is further enhanced by the inspiring lectures delivered by expert plastic surgeons and ENT surgeons.
Organized by the European College of Aesthetic Medicine & Surgery (ECAMS), the 5th Symposium had international faculty from America, Europe, Middle East and Oceania on their panel. The cornerstone of the meeting was the Live Surgery sessions performed by renowned surgeons and the participants got an opportunity to watch 13 live surgeries, live patient injections, as well as many presentations. This Symposium was granted 24 European CME credits (ECMEC®s) by the European Accreditation Council for Continuing Medical Education (EACCME®).
Invented by bodySCULPT surgeons Dr. Spero J. Theodorou and Dr. Christopher T. Chia, arm sculpting with radiofrequency is an innovative FDA-approved technique that can provide you with smooth, shapely arms without the visible scars typically associated with traditional arm lift surgery. The minimally invasive procedure, BodyTite™ on arms (ArmTite), is performed using the BodyTite radiofrequency-assisted liposuction (RFAL) platform.
The procedure removes unwanted fat pockets and tightens the excess skin between the underarm and elbow. It can provide your upper arms with a toned, youthful look, with minimal side effects and discomfort, and importantly, no visible scars. The procedure begins with administering local anesthesia to the treatment area. A tiny incision is then made on the upper arm skin to insert the cannula used for BodyTite treatment. The RF energy delivered via the cannula gently liquefies the unwanted fat cells, allowing them to be easily removed. This procedure is a boon to many patients with its minimum downtime and speedy recovery compared to the conventional technique.
Dr. Theodorou was also a moderator for distinct live surgeries such as Face & Neck Lift, Short Scar Facelift, Brazilian Butt Lift and Facelift, and Sculpting the Fat Neck performed by other international faculty. He lectured on the topics "High Lateral Tension Abdominoplasty", "Arms Sculpting with RFAL", "Flank Sculpting with VASER" and "Brazilian Butt Lift under Local Anesthesia". Earlier, during the fourth Live Makeover meeting, Dr. Theodorou had performed Brazilian Butt lift.
Based in Manhattan, NYC, bodySCULPT® is a leading plastic surgery practice dedicated to maintaining the highest standards of care and offering patients the best in plastic surgery procedures. The facility's mission is to bring out the natural beauty in each patient and improve the quality of their lives by providing personalized care and support.