If you are considering plastic surgery, you must first make sure you are a good candidate. One important condition, say experts, is that you should be healthy and close to your ideal body weight. A recent study from the Wright State University in Dayton, Ohio sought to substantiate this. According to the researchers, obese people who go in for a plastic surgery procedure are 35 percent more likely than normal-weight people to have to visit the emergency room or be hospitalized within a month after the treatment. Healthcare costs are obviously higher for such patients.
The study, published in the May issue of Plastic and Reconstructive Surgery, stresses why it is important for plastic surgeons to educate obese patients throughout the perioperative period about the risks they face when they have a procedure.
The study examined data on about 48,000 adults who underwent outpatient plastic surgery. The procedures performed include liposuction, tummy tucks, breast reduction or eyelid surgery. Four percent of these patients were obese, with higher rates of other health issues such as diabetes, high blood pressure, heart disease and mental health problems. The study found that
Just over 7 percent of the obese patients had to visit the emergency department or were admitted to the hospital within 30 days after surgery, compared to 3.9 percent for non-obese patients.
The highest rate of hospital visits were noted for obese people with three or more health issues who had a tummy tuck.
3.2 percent of the obese patients developed complications within 30 days after their procedure; the corresponding proportion was 0.9 percent for those who were not obese.
After adjustment, it was found that the relative risk was 72 percent higher for the obese patients.
Hospital charges for obese patients were much higher due to the increased risks as they resulted in a higher rate of hospital visits.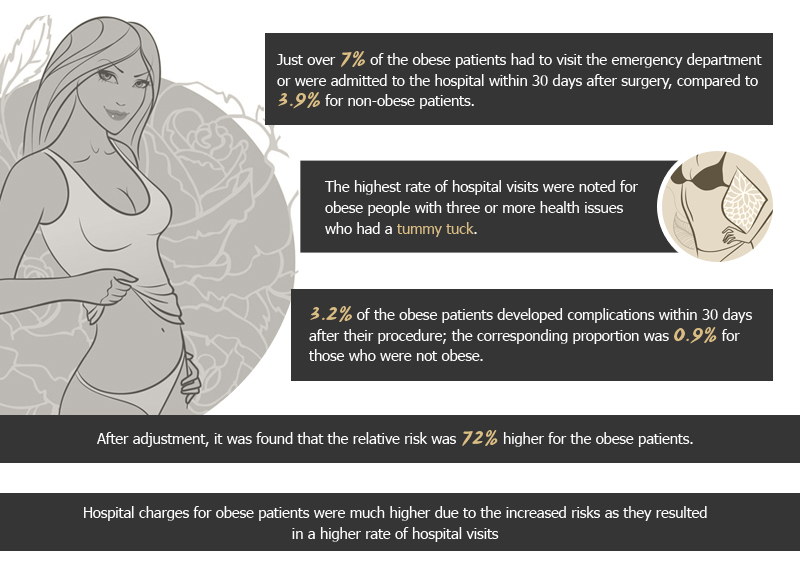 The researchers also pointed out that surgeons need to educate overweight and obese patients regarding the importance of controlling their comorbid conditions before they have plastic surgery. For instance, they suggest that it might be possible for diabetic patients to reduce risk of complications by carefully controlling blood glucose levels.