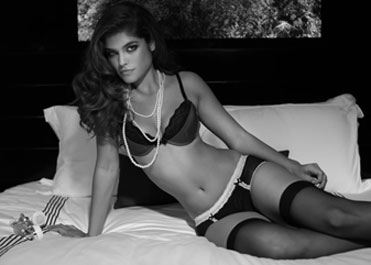 This year, the hot trend on New York beaches and in other places in the U.S. is thong bikiniswimwear, designed with cut out bottoms that flatter and show off the behind. However, some posts on Twitter mentioned that women wearing these bikinis are showing too much. A recent Yahoo article quoted some tweets from those questioning the thong bathing suit trend: "Really wondering why it's the in thing to wear thong bathing suits…" she tweeted, asking if boy-friends approved. She found the butt-revealing swimsuit "obnoxious and disrespectful" around families, and that she didn't want her young son seeing that!
Her comments stirred up a tweetstorm and she faced a barrage of criticism. Quite a few Twitter users took this opportunity to say just how proud they are of their bodies. One tweeted, "My boyfriend loves it!! Thanks". Others were not happy with the idea of shaming people for what they wear and criticising those who were not confident about their bodies. A psychologist feels that it is important to instil confidence in children by telling them that bodies come in all sizes and shapes and should not be judged.
Some of today's young women are taking advantage of the advancements in cosmetic surgery to change their bodies to fit their desires. Many are inspired by celebrities who have butt augmentation and post their pictures of the results online. For example, Chloe Khan recently had Brazilian butt surgery and showed off her enhanced assets in thong swimwear.
Today, women are happier with their body weight than ever before. A review of more than 250 weight-perception studies conducted between 1981 and 2012 involving more than 100,000 participants, found that the percentage of women who are dissatisfied with their bodies significantly declined during that period. Researchers found that, though there was no significant change, there was a slight decline in dissatisfaction with levels of strength and power for men.
The reason for these positive trends, according to the team, is the increase in the media's diverse representation of body types. Different types of body shapes and sizes are represented in the media, showing that the idea of body acceptance is gaining traction.
One surprising finding of the study is that though more than a third of adults were obese in 2012, people are still satisfied with their bodies more than ever. However, the author of the study notes that though this may be a sign that people are learning to love their bodies, it is disturbing that obesity rates are not going down. People need to realize the importance of a balanced diet and exercise to stay healthy. Even people who have body contouring treatments are advised to lead a healthy lifestyle if they want to maintain the results.
At bodySCULPT in New York City we feel every woman should be confident and proud of their bodies. Its 2017!!