Are you finding that you can't achieve your goal of a sculpted, well-defined chest even after spending hours in the gym? Then you might want to consider male pectoral implants surgery, a popular option among men who feel self-conscious about underdeveloped or asymmetrical chest muscles and are unable to achieve the desired contour with exercise alone.
Genetics, growth defects, injury and other conditions can limit the growth of the chest muscles. Pec implants add shape and definition to the chest area, enhancing the contours and resulting in a well-proportioned, symmetric, masculine athletic torso.
Preparing for male pec implants surgery is important for smooth recovery and best outcomes. The first step is to choose a reliable plastic surgery practice that has well-qualified plastic surgeons who are skilled in performing the procedure. An expert plastic surgeon will first make sure that you are in good health and fit to undergo the procedure. In addition to reviewing your medical history and performing a physical exam, the surgeon will also provide you with certain preoperative instructions. Going by this guidance is crucial for smooth recovery and optimal outcomes.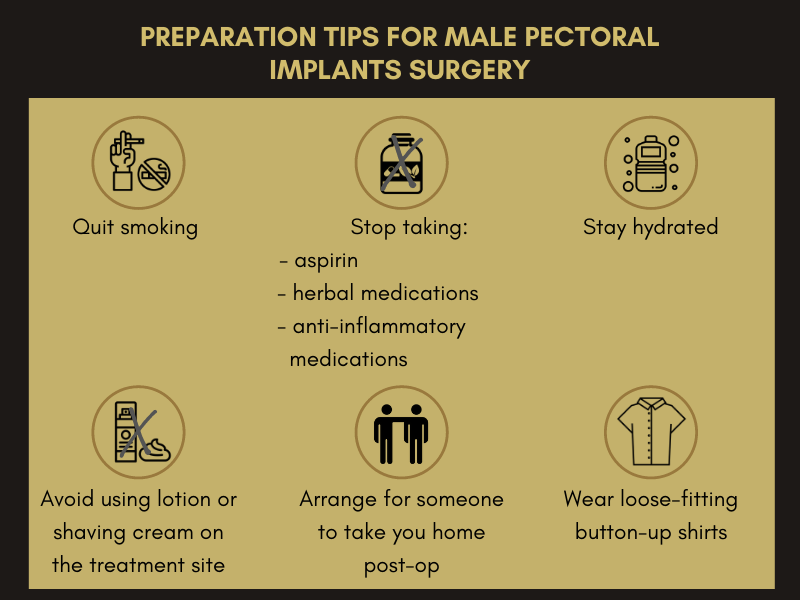 To consider male pectoral implant in NYC, choose an AAAASF-accredited plastic surgery practice. Such practices would have surgeons who are experts in performing this particular procedure. A reliable surgeon will tell you all you want to know about the procedure, preparation and recovery tips.