A double chin is one of the most obvious and unwanted signs of aging. According to American Society for Dermatologic Surgery consumer survey, 68% of all Americans are affected by a double chin or submental fullness, where a thick layer of fat rests under the chin due to aging, weight gain, genetics, and posture. This distressing aesthetic concern can occur at any time and it is often difficult to resolve it with just diet and exercise. Typically, body contouring procedures come with considerable downtime and side effects. The good news is that there a variety of minimally invasive and noninvasive aesthetic modalities to address this concern with quick recovery and short downtime. An article published by SPOTLYTE BY ALLERGAN showcases these techniques that cosmetic surgeons are now using to smooth away a double chin and chisel the jawline.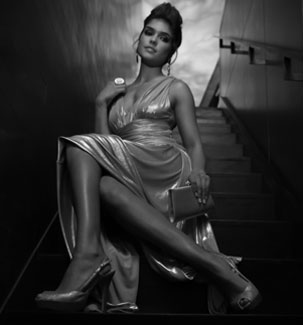 Invented by Dr. Spero Theodorou, a NYC-based bodySCULPT® plastic surgeon, EmbraceRF is a breakthrough procedure that uses radiofrequency energy to get rid of unwanted bulges in the lower face. It combines two powerful technologies from InMode-FaceTite and Morpheus8 – to effectively treat the subdermal adipose tissue of the face.
Dr. Theodorou points out that the first step of smoothing double chin using EmbraceRF involves using targeted radiofrequency assisted lipolysis (RFAL), which tightens skin. Next, Morpheus8, the FDA-approved subdermal adipose-remodeling device (SARD) will be used to shift the fat around and mold it into a strategic, more flattering position. Since the treatment is a bit invasive, it comes with a few days of downtime but involves no complicated recovery. The results usually last from three to five years, after which natural aging of the skin will set in.
Patients who are not yet ready for a facelift, but want optimal outcomes can opt for EmbraceRF. It is a good option for those with or without underlying fat concerns. What makes EmbraceRF so special is that, unlike other treatments, it offers precise sculpting of the face and neck by allowing the physician to balance the amount of fat removed, molded, and retained.
The article also lists Ultherapy and Fat Freezing asother effective options to get rid of a double chin. Ultherapy is a non-invasive, in-office treatment for banishing moderate jowls. This procedure uses high-intensity ultrasound to counteract the sagging of the skin. Fat freezing (CoolSculpting) is a noninvasive, in-office procedure that can reduce the fullness of the chin in 1-2 sessions, according to a NYC-based board-certified plastic surgeon. Though the procedure is non-invasive, it does comes with its own set of risk and complications- including some common side effects such as swelling and potential numbness that might last for few weeks pots-op.
Apart from cosmetic surgery procedures, the article also covers some interesting tried and proved treatments which people can perform at their homes. One such treatment is Gua Sha, an ancient Chinese Medicine remedy that involves moving a smooth piece of material over the skin in firm strokes. According to Desiree Pais, a Beauty Editor at Herbivore, this treatment "helps to boost lymphatic flow and reduce puffiness, which can help to contour the jaw line area". Another noninvasive option which can be tried at home, the Microcurrent tones and tightens the muscles to provide a 'lifted' look.
If you are not interested in surgery, KYBELLA in NYC is also great option for a double chin. The only FDA approved injectable treatment to improve submental fullness, KYBELLA can reduce chin fat to result in a sculpted jaw line.
Choosing a treatment for your double chin depends on your goals and anatomical considerations. An experienced NYC plastic surgeon will evaluate patients carefully to determine which procedure will work best for them.