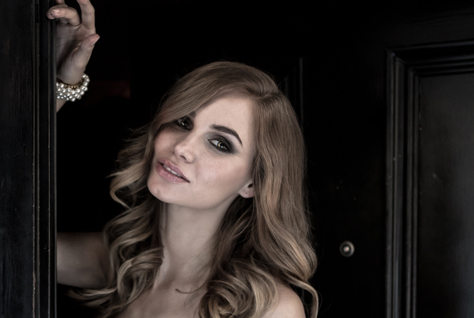 Sagging skin, loose tissue, and excess fat deposits in the lower face are common aesthetic concerns, especially in older adults. While there are many aesthetic procedures to improve skin texture and address stubborn fat, skin and soft tissue laxity are difficult to address. A new study titled "Multimodal Radiofrequency Application for Lower Face and Neck Laxity" reports that combination radiofrequency (RF) treatment is an effective option for nonexcisional facial skin tightening and can correct laxity concerns in the lower face and neck in "treatment gap" patients. The study by Erez Dayan, MD, Paolo Rovatti, MD, Sherell Aston, MD and Rod Rohrich, MD, and bodySCULPT plastic surgeons Spero J. Theodorou MD and Christopher T. Chia, MD was published in Plastic and Reconstructive Surgery – Global Open, August 2020, Vol. 8, No.8.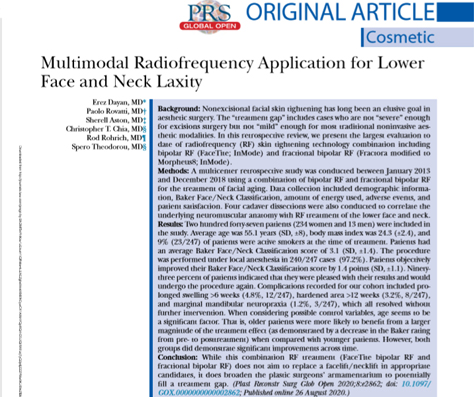 In recent years, RF has emerged as an effective option for less invasive skin tightening. The researchers conducted a multicenter retrospective study between January 2013 and December 2018 using a combination of bipolar RF and fractional bipolar RF for the treatment of facial aging. According to them, this is the largest ever evaluation of radiofrequency (RF) skin tightening technology combination including bipolar RF (FaceTite; InMode) and fractional bipolar RF (Fractora modified to Morpheus8; InMode).
According to the study, "treatment gap" includes cases who are not "severe" enough for excisions surgery but not "mild" enough for most traditional noninvasive aesthetic modalities. The researchers classified "treatment gap" patients with facial skin laxity into three groups:
Young patients whose excess skin is not "severe" enough to undergo a traditional excision procedure – such as facelift/necklift, but also not "mild" enough to treat with liposuction or noninvasive procedures alone;
Patients who have already undergone a facelift or necklift, who present with recurrent laxity, and
Patients who may benefit from traditional face/necklift but want to avoid surgery and are willing to accept a more modest improvement.
A total of two hundred forty-seven patients (234 women and 13 men) participated in the study. The participants were deemed to fit into 1 of the 3 above-mentioned treatment gaps. In 97.2% of the cases, the combination RF procedure was performed under local anesthesia, and in the rest, under general anesthesia. Up to 93% of the patients reported that they were pleased with the results and would undergo the procedure again.
The study used two RF delivery methods (bipolar RF and fractional bipolar RF) in order to meet different treatment goals. The bipolar RF applicator directed electrical current flow from the internal to the external electrodes connected by the handpiece. The heat from the internal probe coagulated the targeted subcutaneous fat, while preserving the surrounding tissues. The controlled heating simultaneously encouraged collagen production and improved skin elasticity over time. In addition, the application of heat worked to tighten the overlying skin and improve laxity. The authors point out that the technology also minimizes complications by controlling the internal and external temperature, and automatically turning off RF energy if it exceeded preset parameters.
The study found that the combination RF treatment seemed to benefit older patients to a much larger extent than it benefited younger patients. However, they found that both age groups showed noticeable and substantial improvements in their Baker Face/Neck Classification scores from pretreatment to posttreatment. Though some patients experienced complications such as prolonged swelling, hardened area, and loss of sensation in certain facial nerves, all of these were resolved without further intervention.
The researchers noted that while the combination RF treatment (FaceTite bipolar RF and fractional bipolar RF) does not aim to replace a facelift/necklift in appropriate candidates. Multimodal RF application can benefit treatment gap patients and also provides patients with an option to improve facial soft tissue laxity without undergoing invasive surgery.
bodySCULPT® plastic surgeons Dr Spero Theodorou and Dr Christopher T. Chia have conducted extensive research in RF-assisted cosmetic procedures and published several papers in leading industry publications. A leading AAAASF-accredited plastic surgery center in Manhattan, NYC, bodySCULPT® is dedicated to providing individualized minimally invasive and non-surgical procedures using state-of-the-art technology.