During the COVID‐19 pandemic, plastic surgeons enhanced their safety protocols. They re‐evaluated their aesthetic practices to ensure optimal patient safety, especially elective procedures using energy‐based devices and lasers. Previous studies have shown that the plume emitted by these devices contain tissue debris and aerosolized biological materials that could transmit viruses and bacteria.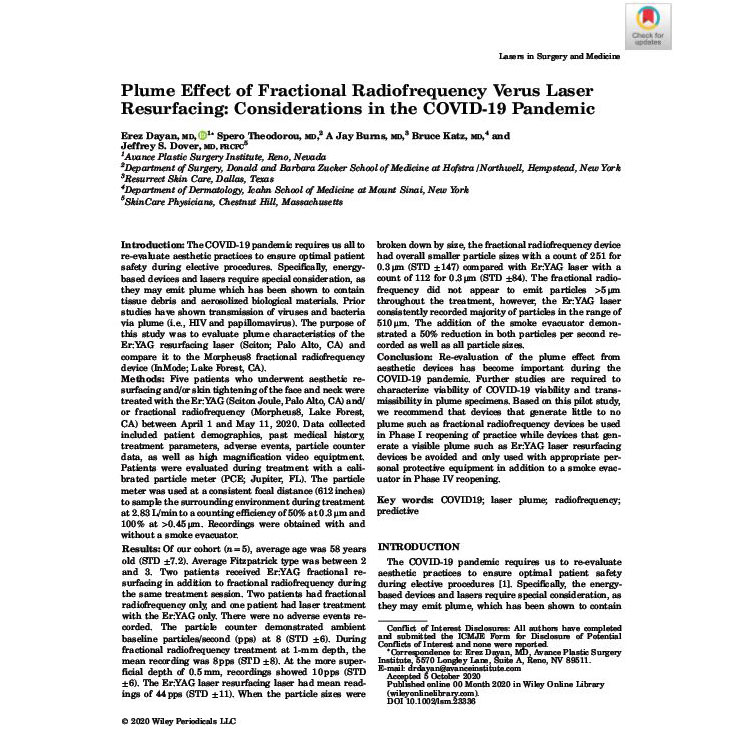 A study "Plume Effect of Fractional Radiofrequency Versus Laser Resurfacing: Considerations in the COVID‐19 Pandemic" recommends that plastic surgeons should use devices that generate little to no plume, such as radiofrequency devices, to minimize the risk of laser plume‐associated pathogen transmission during the reopening of practices in Phase 1. The study by bodySCULPT plastic surgeon Spero J. Theodorou, MD et al, was published in Lasers in Surgery and Medicine on November 8, 2020. The study also suggests that it is best to avoid treatment with Er:YAG laser resurfacing devices, and if used, these should only be "used with appropriate personal protective equipment in addition to a smoke evacuator in Phase IV reopening."
The pilot study aimed to evaluate plume characteristics of the Sciton Joule Er:YAG laser ablative resurfacing device and fractional radiofrequency InMode Morpheus8. With the knowledge of the plume characteristics of these devices, researchers were able to assess the potential risks involved and better understand how to protect themselves and their patients.
For the study, the researchers treated five appropriate patients seeking aesthetic skin resurfacing of the face and neck with the Sciton Joule Er:YAG laser and/or InMode Morpheus8 fractional radiofrequency device. Two patients underwent Er:YAG fractional resurfacing in addition to fractional radiofrequency during the same treatment session. Two had fractional radiofrequency only, and one patient had laser treatment with the Er:YAG only. None of these patients had prior aesthetic facial treatment over the prior 4 months.
The study data demonstrated that the:
There were no adverse events recorded during or after treatment.
Er:YAG resurfacing laser emits more than 4 times the particles when compared with fractional radiofrequency.
Fractional radiofrequency did not emit plumes significantly above ambient baseline particle readings of the exam room environment.
With the addition of the smoke evacuator, a 50% reduction was demonstrated in both particles per second recorded as well as all particle sizes.
When comparing the results, it was found that there was no visible plume from the fractional radiofrequency device, whereas there was a clearly visible plume from the Er:YAG laser.
Through this study, researchers were able to provide guidance to practitioners on the potential for viral transmission by comparing the plume generated by RF-based microneedling and Er:YAG fractional skin resurfacing. According to the study, "the U.S. Occupational Safety and Health Administration (OSHA) currently has no regulatory requirements for protection against plume emission from energy‐based devices and lasers devices. However, several professional societies, including the American Society for Lasers in Medicine and Surgery (ASLMS) have recommended guidelines to protect patients and practitioners".
The researchers concluded that though the study shows the necessity of using PPE such as masks, eye protection, and smoke evacuation systems with Er: YAG, further studies are required to characterize the viability of COVID-19 and its transmissibility via plume specimens.
Study author Dr Spero J. Theodorou is bodySCULPT® plastic surgeon and InMode's Chief Medical Officer. Dr Theodorou has extensive training in radiofrequency-assisted and other power-assisted liposuction procedures. He is responsible for the development of all of InMode's procedures, clinical studies and training. Dr Theodorou was instrumental in the development and introduction of EmbraceRF, the innovative facial contouring solution, that blends InMode's FaceTite and Morpheus8.