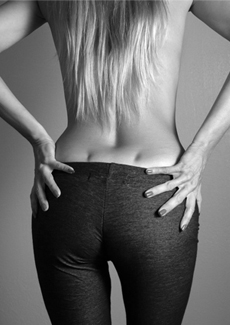 Recent reports say that women are now having VASER Lipo treatment, which is available in leading NYC plastic surgery practices, to acquire back dimples – a physical attribute which is considered attractive and sensuous. Venus dimples (named after the Roman goddess of beauty) are little back dimples that appear where the two pelvic bones are connected. These two small indentations on the lower back cannot be achieved with exercise. Inspired by many models and celebrities, women are going under the knife to recreate the small indents in their lower back.
VASER liposuction or VASER Hi-def Liposculpture is a minimally invasive liposuction technique that employs ultrasound energy to eliminate unnecessary stubborn fat from your body with less pain and discomfort. This treatment can sculpt almost all parts of your body, such as the abdomen, back, breast, thighs, buttocks, arms, knees, hips, love handles, chin and face.
In the Vaser lipo treatment to artificially create Venus dimples, the surgeon will first make a small incision less than 1cm across the V-spot area – the curved diamond area in the lower back. Next, a short cannula will be used to deliver ultrasound energy to break down the fat from inside. A suction cannula is then used to absorb the fat and sculpt the V spot area and dimples.
The results will take almost four weeks to show up. The lower back is a beautiful area of the female body and enhancing that spot and sculpting it would make it even more striking.
VASER Ultrasound Liposuction comes with the following benefits:
Performed under local anesthesia
Removes stubborn fat easily
Does not harm surrounding tissues
Minimal blood loss, swelling and bruising
Refines and highlights the appearance of muscles
Stimulate collagen production, resulting tighter skin
One highlight of this treatment is that it retains the viability of the fat cells for use in fat transfer. If you are planning to have VASER Lipo in NYC, make sure you choose a recognized AAAASF-accredited plastic surgery practice with surgeons who are knowledgeable in this unique minimally-invasive procedure.