bodySCULPT® plastic surgeons Dr Christopher T. Chia and Dr. Spero Theodorou will be operating live at the first ever Aston Baker Cutting Edge Global Aesthetic Symposium to be held from March 30 – 31, 2019 in Bogota, Colombia. Titled "It's Just Surgery – Advanced Body Sculpting", "this symposium will witness bodySCULPT surgeons along with other U.S. and international surgeons performing live surgery from different operating rooms. This program is designed for high impact learning through direct visualization of live surgery via live-stream technology on the internet.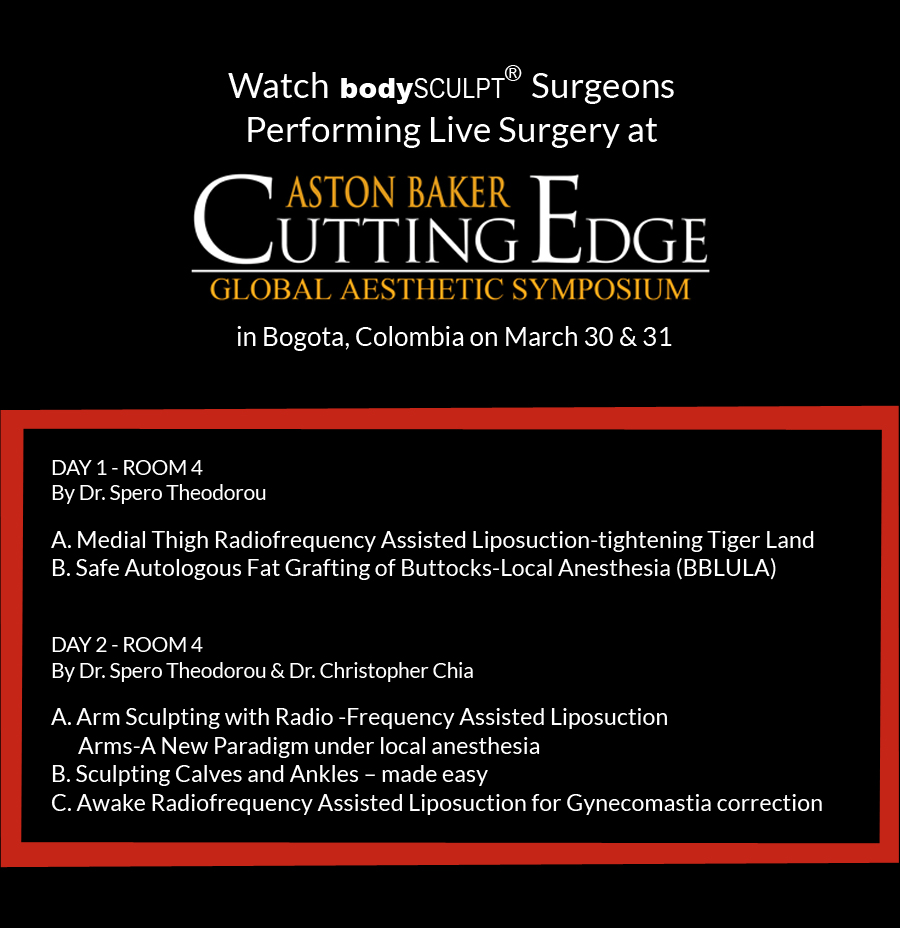 According to the organizers, viewers can expect the same high-level educational experience and state-of-the-art plastic surgery innovation they have experienced over the years from the Aston Baker Cutting Edge meeting in New York City. Various surgical procedures will be simultaneously live-streamed around the world from the four operating rooms directly to viewers' phone, tablet, or computer.
Dr. Sherrell J. Aston and Dr. Daniel C. Baker will be serving as Course Chairmen and moderating the symposium. These doctors have brought together an outstanding faculty of renowned experts who are recognized worldwide as the innovators and developers of the most advanced techniques for operating live.
bodySCULPT plastic surgeons Dr. Spero J. Theodorou and Dr. Christopher T. Chia are widely acclaimed for their surgical expertise and are continuing to provide result-oriented cosmetic surgery procedures. An international figure in the field of plastic surgery, Dr. Theodorou is a widely commended expert on emerging technologies in body contouring and inventor of the non-excisional arm lift. Dr. Chia is a renowned plastic surgeon known for his excellent research and publications in body contouring, and also as the inventor of the Brazilian Butt Lift under Local Anesthesia (BBLULA).
On the first day from 8 am to 1 pm, Dr. Theodorou will be performing the following live procedures from Room 4:
Medial Thigh Radiofrequency Assisted Liposuction-tightening Tiger Land
Safe Autologous Fat Grafting of Buttocks-Local Anesthesia (BBLULA)
And on the second day, during the morning session from 8 am to 1 pm, Dr. Theodorou will be operating along with Dr. Chia. You can watch the following procedures live:
Arm Sculpting with Radio-Frequency Assisted Liposuction Arms-A New Paradigm under local anesthesia
KANKLES: Sculpting Calves and Ankles made easy
Awake Radiofrequency Assisted Liposuction for Gynecomastia correction
What Are the Benefits of Live-streaming Surgery?
Doctors from all over the globe will have access to the best training and the brightest minds in cosmetic surgery. Experts will show their cutting-edge techniques and procedures for all to see. Advantages are:
Speed: The fastest and most efficient method of information transfer is through real-time watching of surgical operative cases. You only need a high-speed internet connection.
Methodology: A Live explanation of steps, techniques and surgical reasoning, enables an instantaneous and accurate transfer of information in the latest state-of-the-art medium that has become the second-best option after hands-on practice.
Education: Surgeons viewing the procedures can earn Continuing Medical Education (CME) credits in the comfort of their home, office or on the go while learning the latest in advanced body contouring.
Expense: Travel expenses involved in visiting physical locations for a meeting are now redundant. Live-streaming surgery is the most efficient way to transfer information in the shortest amount of time. You don't have to spend time away from your office either.
This event will provide an exclusive and exceptional educational experience for surgeons who want to take their practice to the next level with the fastest and most efficient method of information transfer through real-time observation of surgical operative cases. Live case demonstration as an innovative tool from standard practice is an important means of improving surgical care and needs to be shared. Through live broadcast, practitioners and scientists can experience a surgical procedure in real time and even ask questions to the surgeon without being physically present in the operating room. So, be ready for this unique event.