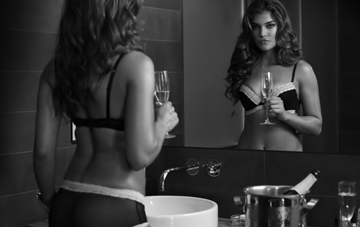 Natural aging, skin type, gravity, sun exposure and other factors can cause skin laxity and excess fat accumulation in the face and neck area. EmbraceRF in NYC, a new breakthrough facial contouring procedure, is designed to address these concerns. This scarless procedure is based on the concept of subnormal adipose remodeling of the face. It allows precise sculpting of the lower face and neck by combining two proprietary InMode technologies: radiofrequency-assisted FaceTite and Morpheus8. EmbraceRF allows the physician to balance the amount of fat removed, molded, and retained.
Radiofrequency-assisted liposuction (RFAL) utilizes heat to address excess fat deposits in the face and neck. However, in some cases, some of the fat in the face and neck area may need to be preserved to retain a youthful appearance. Depending on the quality of the skin, the aesthetic surgeon can combine EmbraceRF with Morpheus8 externally for adipose remodeling. Depending on the depth of the dermis in different parts of the face, the surgeon can preserve fat and tighten skin or remold the fat into the contours so as to improve definition of the jaw line, jowls and neck, while retaining volume for a youthful look. This procedure enables the surgeon to determine how much fat should be removed, left behind, or molded for precise sculpting of the face. When performed by a skilled surgeon, EmbraceRF distinctly improves the jaw line and rejuvenates the neck.
It is an ideal option for patients who have skin laxity in the lower face and neck, with or without underlying fat concerns, and specifically, the following categories of patients:
Treatment Gap Patients: Those who do not have bad enough skin for a facelift and not good enough skin elasticity for liposuction.
Sideline Patients: All potential patients who are candidates for a facelift, but have not had surgery due to concerns about scarring and general anesthesia.
Facelift Maintenance Patients: This includes patients who have had a previous facelift, but have had early recurrence of jowls and neck laxity, and are too early to repeat another facelift.
Though EmbraceRF is a great option for those looking for youthful, long-lasting results without surgery, not everyone is a good candidate for the procedure. A facelift in NYC would be the appropriate solution for patients with severe skin sag.
A personalized consultation with a skilled and experienced plastic surgeon can determine your candidature for this particular procedure. Generally, individuals qualify for this procedure if they
Want to reshape their face and/or neck
Are dealing with age related changes on the face and neck with unwanted wrinkles, skin texture and unsightly pockets of fat of the lower face and neck with only mild to moderate loose skin.
Are active, motivated and healthy
Prefer minimally-invasive procedure over conventional facelift or other facial plastic surgery
Are 30 years of age or older
The procedure is performed on an outpatient basis under local anesthesia and has a short down time. Most patients can resume regular activities shortly after EmbraceRF. The results of this one-time procedure are visible immediately and are long-lasting. EmbraceRF patients usually report seeing the best results after about 6 weeks.
EmbraceRF procedure was invented by plastic surgeons in NYC who have experience in performing radiofrequency assisted cosmetic procedures. If you are considering EmbraceRF in NYC, choose an AAAASF-accredited plastic surgery practice that has surgeons who has the specialized skill required to perform this innovative procedure. Only an expert can utilize these FDA-approved InMode technologies to provide optimal results.