bodySCULPT®, an established AAAASF-accredited plastic surgery practice based in Manhattan, NYC has announced that their founder and surgical director Dr. Spero Theodorou, will be presenting as a faculty at the prestigious 2018 Florida Plastic Surgery Forum (FPSF) scheduled to be held from December 13-16, 2018 at The Breakers, Palm Beach, Florida, United States of America.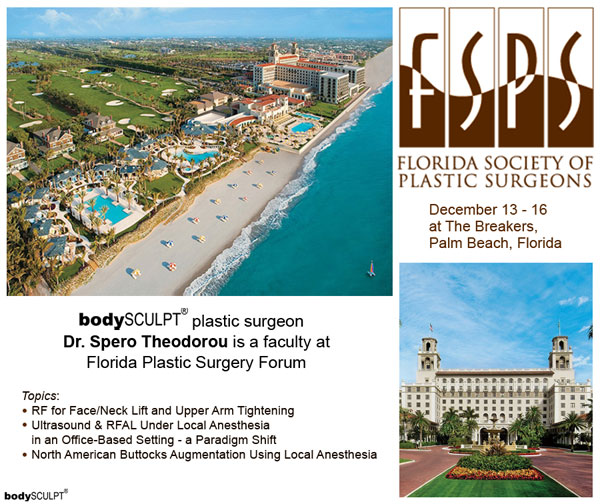 Dr. Spero Theodorou, who is also a consultant with InMode Aesthetic Solutions, one of the top medical device manufacturers at the forefront of aesthetic technologies will be lecturing on:
RF for Face/Neck Lift and Upper Arm Tightening on December 13, 2018 from 1:50 – 2:10 pm
Ultrasound and Radio Frequency Assisted Liposuction (RFAL) under Local Anesthesia in an Office Based Setting—a Paradigm Shift on December 14, 2018 from 10:45 – 11:15 am
North American Buttocks Augmentation on December 14, 2018 from 1:30 – 2:00 pm.
Dr. Theodorou has performed successful body contouring using various InMode technologies and workstations that are designed to provide the right solutions for specific cosmetic issues.
FSPS (Florida Society of Plastic Surgeons) was established in 1956 and focuses on making safe, superior quality plastic surgery available in the state of Florida. The organization promotes "the art, science and ethical practice of plastic surgery." They ensure that both patients and physicians are kept abreast of the most modern surgical procedures and techniques. Members of FSPS can actively network and exchange ideas and the meetings they organize have the objectives of knowledge sharing and enabling members to perfect their surgical skills.
The event will witness the gathering of an outstanding faculty of renowned experts recognized worldwide as innovators and developers of the most advanced techniques for body contouring. This year, participants can update themselves on the latest strategies in various invasive and non-invasive procedures; implement tips for breast surgery procedures as shared by their peers; and review the latest patient safety strategies among other things.
bodySCULPT® is the only BodyTite Certified Center of Distinction in Manhattan, NYC. The facility's plastic surgeons Dr. Spero Theodorou and Dr. Christopher T. Chia have years of experience in performing minimally invasive and non-invasive cosmetic procedures. They are also credited with the invention of the RFAL Scarless Arm Lift procedure (BodyTite on Arms). These surgeons are known for the attractive and long-lasting body sculpting results they offer their patients. bodySCULPT® surgeons and staffs are sensitive to individual patient needs and attach top priority to patient safety and care.