bodySCULPT®, a leading AAAASF-accredited plastic surgery practice in Manhattan, NYC, is delighted to share the news that International Pop Icon Paula Abdul is InMode's new brand ambassador. Dr. Spero Theodorou, bodySCULPT's surgical director, who is also InMode's Chief Medical Officer, approved the choice, stating, "Paula is an excellent candidate for InMode's innovative technology using Radio-Frequency (RF) to provide a natural tighter appearance".
A lifelong performer, Paula is promoting the medical device company's aesthetic treatments, including its BodyTite and FaceTite technologies as alternatives to traditional cosmetic surgery. At age 57, she looks as good as some women half her age and has the physique to show it. Paula acknowledged in a Yahoo Finance article that the ageing effects that gravity can have on the body. "I can do bicep and triceps workouts as much as anyone else, but as you get older, there is only a certain amount of tone and shape that you can have."
To avoid traditional cosmetic surgery, Paula looked for a minimal-invasive option to address her concerns and found InMode and its BodyTite and FaceTite technology. These technologies represent a paradigm shift in the minimally-invasive aesthetic solutions market.
According to Dr. Theodorou noted that Paula is an excellent choice as InMode's brand ambassador as she is fit and exercises regularly, 'but has some areas that trouble her due to past injuries and the effects of aging that overtake us all."
InMode's BodyTite system proved the ideal option to sculpt and remodel Paula's arms while the FaceTite and Morpheus8 handpieces addressed her lower face, jaw line and neck. Unlike more extensive cosmetic surgery, which requires general anesthesia, InMode's minimally-invasive BodyTite/FaceTite technology needs only local anesthesia.
The treatment is designed to leave no visible scarring, requires little downtime, tightens skin, shorter recovery and is less costly than traditional surgical treatments. Results are often observed immediately, with continued improvement seen up to 12 months later.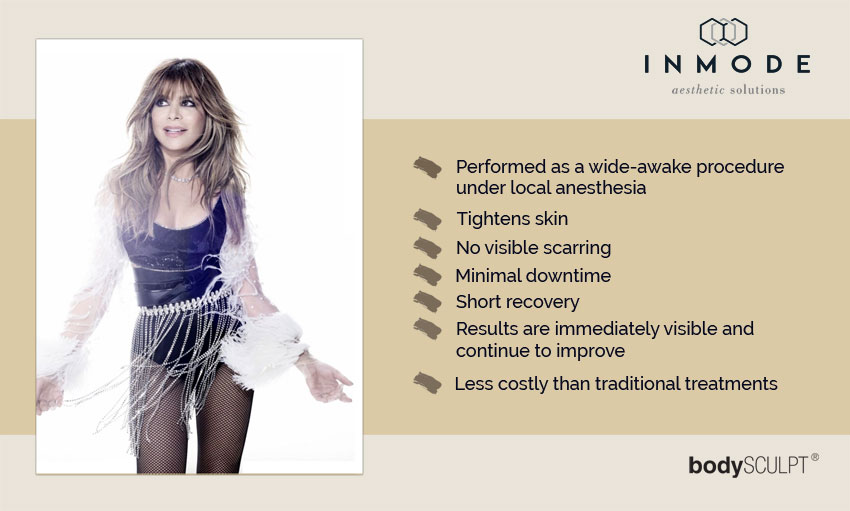 Thrilled by her results, Paula wants to share what the BodyTite/FaceTite procedure did for her and can do for others.
She said, "I am proud to get the word out about what InMode's amazing technology in face and body rejuvenation can do for people like me who notice the inevitable effects of natural aging. While maintaining a healthy lifestyle of fitness and skincare routines, I still wanted more definition and tighter, firmer skin at my jawline and arms – and InMode's BodyTite and FaceTite helped me restore a sleeker, more youthful look without invasive cosmetic surgery. I am very pleased with the results!"




President of InMode North America Shakil Lakhani said, "We are thrilled to announce a strong and powerful woman like Paula representing our brand. Paula has an ageless presence and embodies InMode's commitment to enhance beauty and well-being. This collaboration will ensure a greater audience is aware of the benefits of InMode's technology on a national and global level."
bodySCULPT® is the only BodyTite Certified Center of Distinction in Manhattan, NYC. Dr.Spero Theodorou and Dr. Christopher Chia have done extensive research in the area of radiofrequency-assisted treatments and are experts in the use of local anesthesia for aesthetic procedures.
About bodySCULPT®
Located on 128 Central Park South in Manhattan, New York City, bodySCULPT® (www.bodysculpt.com) is an AAAASF-accredited plastic surgery practice with a state-of-the-art surgical center. This plastic surgery practice offers a wide range of superior quality cosmetic surgery solutions for men and women. bodySCULPT® specializes in radiofrequency technologies such as BodyTite, Facetite and Morpheus8 for body sculpting and remodeling. They also offer tummy tuck, Brazilian butt lift, fat transfer, breast augmentation, breast lift, chin lift, and arm lift among other procedures. The facility is led by the plastic surgeons Dr. Spero J. Theodorou and Dr. Christopher T. Chia. You can contact bodySCULPT® at (212) 265 2724.