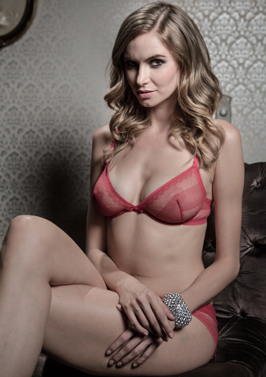 Breast lift surgery was the only option women had earlier to lift their sagging breasts to a more youthful position. Flat, sagging and drooping breasts can rob your self confidence and make you hesitant to wear bikinis and other revealing dresses. Now InMode has introduced a reliable technology BodyTite, a minimally invasive way to lift your breasts. BodyTite Perky Lift in NYC is rightly described as scarless breast lift surgery because it leaves no scars while providing the best outcome.
One such instance of successful scarless breast lift undergone by a patient Sarah was aired on Extra TV this past week. Sarah Seastone, a 35-year-old mother of three had visited Dr. Diane Duncan, a board-certified plastic surgeon for a solution for her saggy breasts. Sarah wanted her breasts to look round and perky, which they were not after pregnancy and breastfeeding. Dr. Duncan recommended BodyTite perky lift to Sarah which was done without implants or invasive surgery. Sarah underwent this radiofrequency assisted lipolysis procedure that helped her to achieve a natural, youthful appearance with perky breasts just as they were when she was 18. In her own words, "My breasts were like pancakes. Now they're full, round and perky. They are exactly what they used to be when I was 18. I feel like I can go out and wear a bikini once again, that I never used to be able to do."
The perky breast lift offered at AAAASF-accredited plastic surgery practices in NYC is performed by skilled surgeons. The procedure requires only local anesthesia and patients can resume their normal activities soon after the procedure. During the procedure, the BodyTite electrode is applied to the treatment area, while the device's cannula is carefully inserted beneath the skin through a small incision made for the purpose. The electrode and cannula work together to deliver radiofrequency energy that can achieve immediate skin contraction at the surface of the skin, and simultaneously increase the production of collagen to improve skin structure.
This procedure can give immediate, natural-looking results with minimal risk and downtime. Patients can resume their normal day to day activities soon after the procedure and strenuous exercises or task should be avoided for the first week.
Dr. Duncan says that surgical procedures don't really change the character of collagen tissue, but this BodyTite perky breast lift does because it stimulates the collagen to create a sort of suspension and shrinkage of collagen is happening underneath the skin without cutting any of the skin. This procedure leaves no scars for a flawless, perky appearance of the breasts. As the procedure requires no downtime, Sarah went to work the next day. Her results were visible after five weeks.
In NYC, BodyTite Perky Lift procedure could be a relief for mothers who have lost their pre-baby body and want to restore their youthful appearance. It is very important that you approach a reliable, experienced, trained plastic surgeon for this procedure. To enjoy a safe body contouring experience and optimal results you must follow every instruction that your surgeon gives.