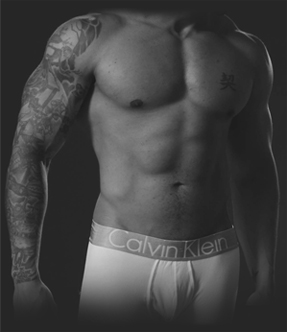 Male breasts or gynecomastia is a major aesthetic concern for men, and this condition doesn't spare even bodybuilders. However, safe cosmetic procedures available can correct gynecomastia bringing about a more masculine appearance. Now, men stand to benefit from yet another practical surgical technique that will help them achieve their aesthetic goals. A recent study notes that the innovative 'Boomerang' technique can safely and effectively correct this condition among muscular men who have shed significant amounts of weight. In this method, gynecomastia is successfully resolved as part of comprehensive body contouring surgery.
Muscular men must have tight enough skin to reveal the superficial large muscular development. Optimal results are achieved via single or multistage comprehensive body lift surgery that would address overall skin redundancy and gynecomastia. In this new 'Boomerang' breast reduction method, a series of opposing boomerang-shaped elliptical excisions are designed to join above the nipple and extend transversely to complete the upper body lift (UBL).
The above mentioned study appeared in the February 2015 issue of Plastic and Reconstructive Surgery. For this study, the office charts of 24 patients who underwent boomerang-pattern correction for gynecomastia were reviewed. These were the records since 2002 and the patients involved were followed up for more than a year. In the last twelve of the 'Boomerang' technique patients, a J torsoplasty extension replaced the transverse UBL. Eleven patients had an extended abdominoplasty with oblique excisions over bulging flanks to complete effacement of the torso. The results observed are as follows.
Satisfactory improvement was observed in all 24 boomerang cases.
Only one among the men felt unsatisfied with distorted nipples following revision surgery.
Surgeons involved in the study noted that maturation of scars was a lengthy process and some took years to flatten and fade.
Only a limited number of complications were reported and no major revisions were required.
This innovative surgical technique has emerged as a good body contouring option for muscular men who have undergone massive weight loss. With the optimal results it ensures, men can confidently engage in beach parties and gym activities. The surgery demands considerable skill and experience on the part of the plastic surgeon and therefore it is vital that patients approach a good surgeon with excellent credentials.