Men and women are undergoing diverse plastic surgery procedures to look their best. There are various procedures to address various concerns such as stubborn fat in specific areas, loose skin, lax muscles, and loss of volume. The amount of downtime and extensiveness of recovery are the key deciding factors for patients when it comes to deciding to undergo a procedure. Body sculpting in New York includes procedures that come with extensive downtime, less downtime, and no downtime.
While traditional plastic surgery procedures or surgical cosmetic treatments involve extensive downtime, minimally-invasive or non-invasive procedure require only less or no downtime and recovery is much faster.
Traditional plastic surgery procedures involve extensive downtime mainly because they are performed under general anesthesia, which is provided by injecting medication directly into the veins. The effect of anesthesia lasts for a much longer period and recovery from the effects of anesthesia may be longer.
On the other hand, minimally-invasive or non-invasive procedures involve less to no downtime. Such procedures require only local anesthesia and can provide excellent results with short downtime and fast recovery. Local anesthesia completely numbs the area and the patient may feel only a slight pressure when the procedure is being performed.
Non-invasive procedures are quick and painless and require no recovery time and anesthesia. With such procedures, there are virtually no complications or downtime. For instance, with InMode EVOKE And EVOLVE, patients can rest comfortably and relax during the procedure, and return to their normal activities immediately after it is complete.
Plastic Surgery Procedures Based on Downtime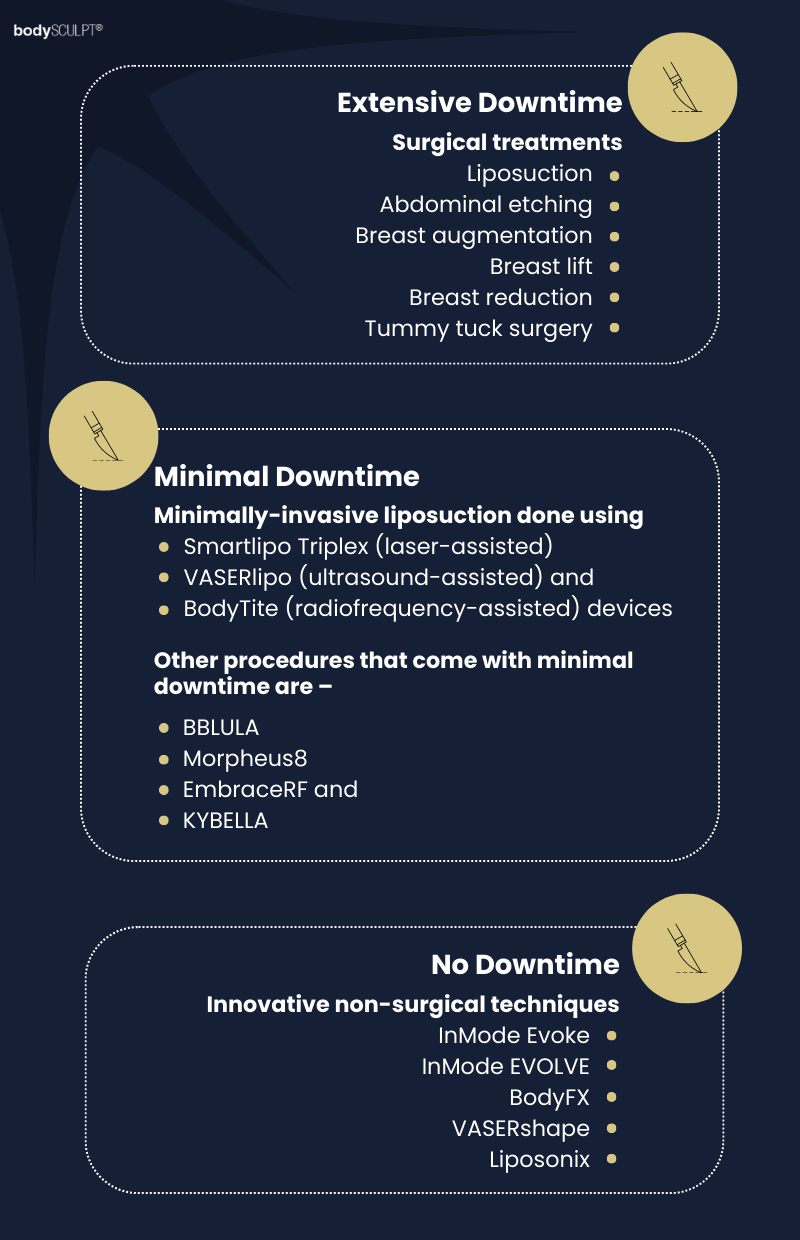 Regardless of whether a plastic surgery treatment involves extensive, minimal or no downtime, choosing a well-trained and experienced plastic surgeon is crucial for safe treatment and the best results.