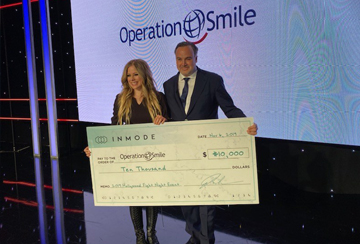 InMode, a leading global provider of innovative medical technologies, made a donation in support of the initiatives of Operation Smile, the nonprofit medical service organization dedicated to providing cleft care to needy children. bodySCULPT® plastic surgeon and Chief Medical Officer (CMO) of InMode, Dr. Spero J. Theodorou and renowned musician Avril Lavigne attended and  presented the donation at Operation Smile's Hollywood 'Fight Night' gala held at The Beverly Hilton in Beverly Hills, California on November 6, 2019.
Based in Virginia Beach, Virginia, Operation Smile has provided hundreds of thousands of safe and free surgeries for children and young adults in low-and-middle income countries who are born with a cleft lip, cleft palate or other facial difference. As one of the largest medical volunteer-based nonprofits, Operation Smile has mobilized thousands of medical volunteers from a wide range of medical specialties from more than 80 countries. Like every year, this year too, the medical non-profit organization organized an event as a big fundraiser.
"The Operation Smile Event hosted 500 guests from around the globe, who have joined forces to support Operation Smile, and make a positive impact on the lives of children in need of treatment. The nonprofit fundraiser saw novice boxers from the entertainment industry in the boxing ring for two three-minute rounds, to raise funds for the charity. Gala guests enjoyed dinner, entertainment, and a live auction," according to a PR Newswire press release.
InMode's CMO Dr. Spero J. Theodorou said, "As a leading innovator of medical technology, we are proud to support and stand behind Operation Smile. Their mission of providing advanced plastic surgery to children in need globally, is a reflection of the same values we hold in high regards as a company".
Canadian singer, songwriter, and actress Avril Lavigne presented InMode's donation at the gala along with Dr. Theodorou. Other stars who joined the 34-year-old "I'm With You" hit-maker at the event included Mario Lopez, Jeremy Piven, Billy Bush, Sugar Ray Leonard, Evan Ross, Rocsi Diaz and hostess Brooke Burke-Charvet and her boyfriend Scott Rigsby.
InMode develops, manufactures, and markets devices harnessing novel radio-frequency (RF) technology. InMode's minimally-invasive RF technologies include FaceTite, BodyTite, AccuTite and Morpheus8. An innovative facial contouring solution that Dr. Theodorou introduced, EmbraceRF blends InMode's FaceTite and Morpheus8.
Referring to InMode's donation to Operation Smile, Dr. Theodorou said, "It is important to give back to the most vulnerable amongst us."