The premier InMode University, an educational symposium covering all InMode technology, in partnership with the Dallas Cosmetic Surgery Meeting, is scheduled to be held on March 10, 2020 in Dallas, TX. Dr. Spero Theodorou, bodySCULPT's surgical director and InMode's chief medical officer, has been announced as a moderator at the event, along with Dr. Sherrel Aston and Dr. Rod J. Rohrich. Dr. Christopher Chia of bodySCULPT is also one of the expert speakers at this premier symposium on InMode technologies.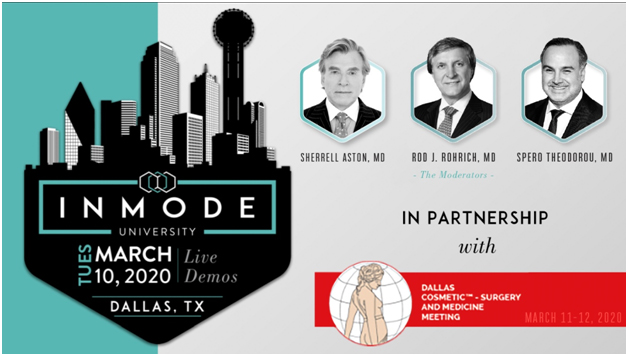 InMode University will be held on Tuesday, March 10 between 7:30 AM to 6:00 PM at The Westin Galleria Dallas. TX. This full day course will provide attendees with expert instruction and feedback on:
Fundamentals in The Science of Dual Mode Radio-Frequency technology
Expert panels that give The Settings to maximize treatment outcomes
Live demonstrations that are mindful of The Safety when utilizing InMode technology
Participant hands-on interaction on cadavers
The course takes place on the day before 23rd Annual Dallas Cosmetic Medicine Meeting which is scheduled to be held on March 11 and March 12, 2020 at the Westin Galleria Dallas.
InMode University brings together a world-class faculty and the program includes presentations, overviews, live edited demos, live demonstrations, panel discussions, Q&A sessions and interactive participant demos. The expert faculty presenting at this full day course are:
| | |
| --- | --- |
| Sherrell Aston, MD | Rod Rohrich, MD |
| Spero Theodorou, MD | Chris Chia, MD |
| Erez Dayan, MD | Michael Gold, MD |
| Christine A. Hamori, MD | Alfredo Hoyos, MD |
| Lisa Metler, PA | Sean Paul, MD |
| Jacob Unger, MD | David Weir, NP-C |
The symposium will discuss on several topics, from an overview of "The Science and Safety of Radiofrequency Skin Tightening/Fat Removal" to the "Upcoming and Emerging InMode RF Technologies Future Trends & Advances" and "Hands Free Fat Removal and Skin Tightening Expanding Role and Use of RF Technology in Medicine".bodySCULPT's surgeons' participation toward the event will include: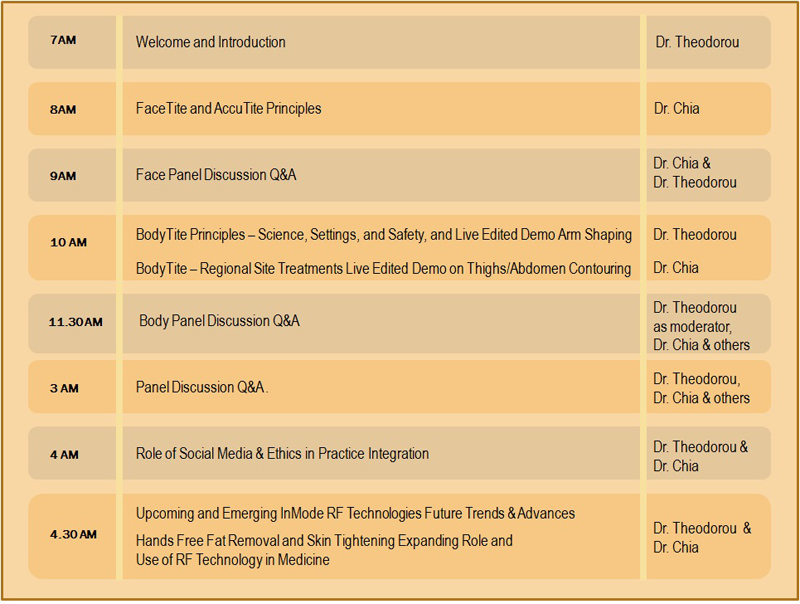 InMode, a leading global provider of innovative, energy-based solutions, recently launched two new hands-free non-invasive solutions – EVOKE, an all-in-one facial remodeling device and EVOLVE, for thermal body and skin treatments.bodySCULPT®, a leading plastic surgery practice in Manhattan, New York City (NYC) offers a variety of body contouring procedures utilizing innovative state-of-the-art technologies. Dr. Chia and Dr. Theodorou have extensive training in radiofrequency-assisted and other power-assisted liposuction procedures. Dr. Theodorou is also responsible for the development of all of InMode's procedures, clinical studies and training.