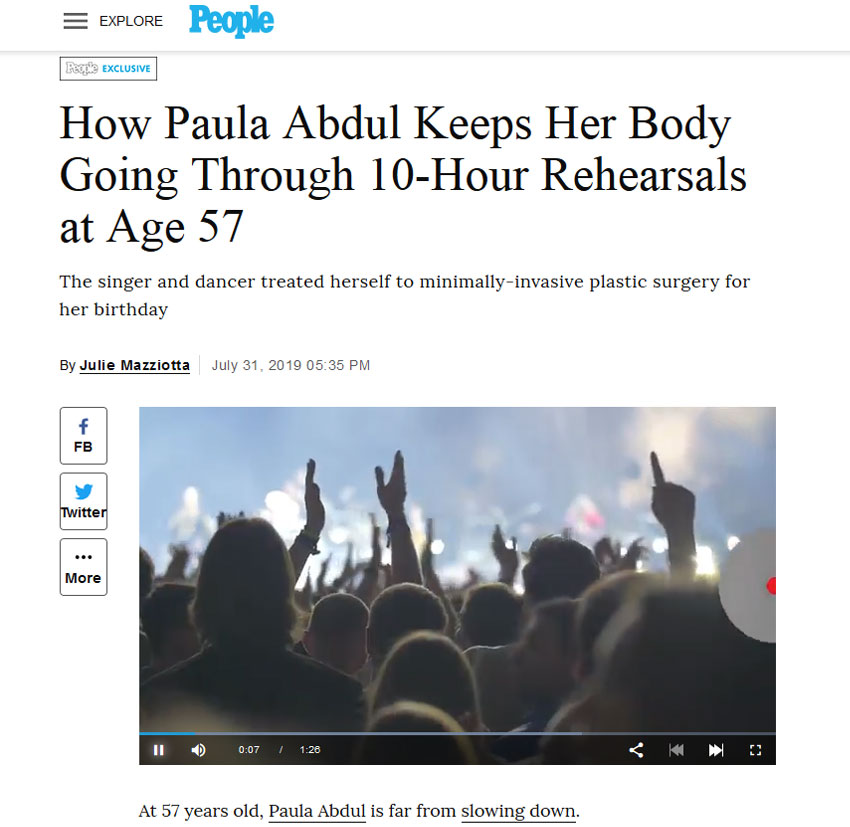 As reported in PEOPLE news, Paula Abdul, at age 57 is far from slowing down as she has to treat her body well to keep going day after day. The International Pop Icon was currently prepping for her first Las Vegas residency where she had put on the hard work, starting each day before the sun and going until late at night.
Abdul told PEOPLE that, "It's very physically intense. I get up at 6 and I work with my trainer for an hour and a half. Then I go to rehearsals at about a quarter to 9. We do a warm-up and then we dance. We go from about 9:45 until 7 p.m., and we take one day off." She describes her workout routine which includes a lot of stretching and back and core work (if her trainer is around). She says, "even though I'm dancing all day I often do straight cardio just so that I'm conditioning my body. And after each performance I usually get in an ice-cold tub. It's not fun! It shocks your body, but it helps with inflammation."
The "Cold Hearted" singer also pays close attention to what she eats – even though she doesn't like following diets – mainly due to her hours spent dancing and due to her history of Reflex Sympathetic Dystrophy (RSD) a type of chronic pain after an injury or surgery. She says, following a low alkaline diet can help with RSD because it helps to lower your acidity to slow inflammation.
On her 57th birthday, she treated herself to minimally-invasive plastic surgeries provided BodyTite and Facetite from InMode. She says, "I wanted to do something for myself. I've had multiple spinal cord injuries and paralysis, and because my arms had paralysis, the muscles atrophied. I work out a lot, and no matter how many times I hit the gym and did bicep and tricep workouts, it was always difficult because I had to rebuild muscle tissue. When I found out about InMode's BodyTite and FaceTite, there was really great improvement. It's subtle." Moreover, wanting to avoid traditional cosmetic surgery, Paula looked for a non-invasive option to address her concerns and found InMode and its BodyTite and FaceTite technology.
Due to her positive experience with InMode's BodyTite, FaceTite and Morpheus8 technologies, Paula Abdul has agreed to join InMode Ltd. as new brand ambassador. Plastic surgeon Spero Theodorou, MD of bodySCULPT in NYC who is also InMode's Chief Medical Officer, discussed Paula as the right choice. Dr.Theodorou says, "Paula is an excellent candidate for InMode's innovative technology using Radio-Frequency (RF) to provide a natural tighter appearance. And moreover, she is fit and exercises regularly, but has some areas that trouble her due to past injuries and the effects of aging that overtake us all."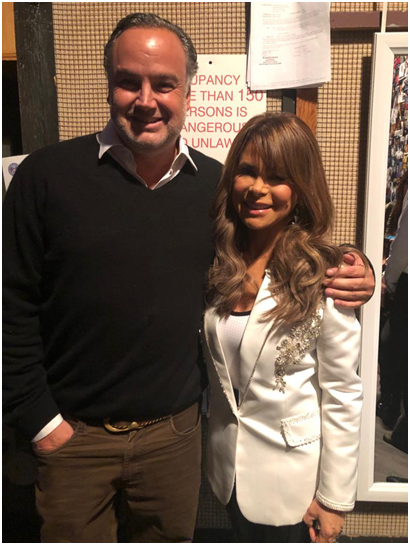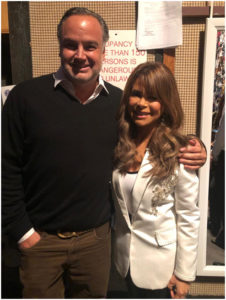 InMode's BodyTite system proved the ideal option to sculpt and remodel Paula's arms while the FaceTite and Morpheus8 handpieces addressed her lower face, jawline and neck. Unlike more extensive cosmetic surgery, which requires general anesthesia, InMode's minimally-invasive BodyTite/FaceTite technology needs only local anesthesia.
BodyTite is a safe, minimally-invasive cosmetic surgical procedure that offers efficient removal of stubborn fat and cellulite reduction along with noticeable skin tightening effects. The FDA-cleared BodyTite liposuction device delivers RF energy to liquefy subcutaneous fat so that it can be easily removed. It also coagulates the blood vessels and tightens the skin, while leaving the surrounding tissues unharmed.
Similarly, FaceTite is a non-invasive RFAL (Radio-Frequency Assisted Lipolysis) facial contouring solution that provides superior internal and external liposuction and allows three-dimensional remodeling of the fibrous tissues.
At age 57, she looks as good as some women half her age and has the physique to show it. Although, she acknowledges the ageing effects that gravity can have on the body.
She shares her positive outlook to aging as "I feel like I'm aging as gracefully as one can be, with a healthy outlook. Dancing with passion everyday keeps that going. Aging is inevitable, and I haven't really put too much pressure on it."
According to a recent Yahoo Finance news report, Paula is bringing her renewed feeling of confidence and self-assurance to others who want the same benefits.
Leading NYC plastic surgeons Drs. Spero Theodorou and Christopher T. Chia of bodySCULPT in NYC are inventors of BodyTite on Arms, a scarless arm lift procedure. This is an innovative technique used to enhance the contour of your arms under local anesthesia to tighten and remove the excess skin under the arms, without leaving any scars.
Dr. Theodorou also invented EmbraceRF, a breakthrough treatment that combines two powerful technologies from InMode – FaceTite and Morpheus8.  The minimally-invasive procedure works on RF energy to treats the subdermal adipose tissue in the lower face. This unique one-time facial rejuvenation solution effectively treats skin laxity and excess fat accumulation in the face and neck area caused by factors such as aging, genetics, weight gain and loss, sun exposure and gravity – without surgery.
President of InMode North America, Shakil Lakhani adds, "We are thrilled to announce a strong and powerful woman like Paula representing our brand. Paula has an ageless presence and embodies InMode's commitment to enhance beauty and well-being. This collaboration will ensure a greater audience is aware of the benefits of InMode's technology on a national and global level."