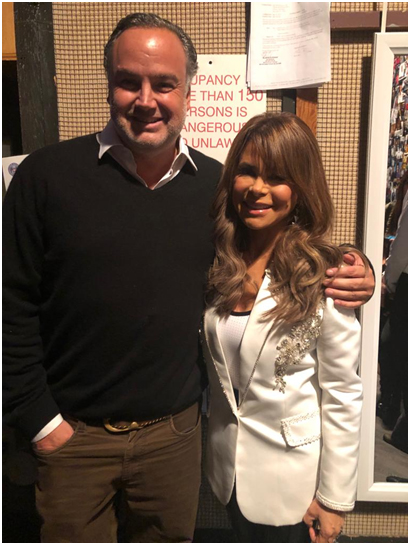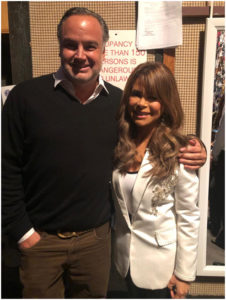 International Pop Icon Paula Abdul has agreed to join InMode Ltd. as a brand ambassador to share her positive experience with the Company's BodyTite, FaceTite and Morpheus8 technologies, according to a recent Yahoo Finance news report.
Plastic surgeon Spero Theodorou MD of bodySCULPT in NYC who is also InMode's Chief Medical Officer, discussed the choice. "Paula is an excellent candidate for InMode's innovative technology using Radio-Frequency (RF) to provide a natural tighter appearance", said Dr.Theodorou.
A lifelong performer, Paula Abdul has made her mark in this industry as an award-winning dancer and choreographer, singer, actress, and television personality with six number-one singles on the Billboard Hot 100, Emmy and Grammy Awards, and numerous other accolades. At age 57, she looks as good as some women half her age and has the physique to show it. Although, she acknowledges the ageing effects that gravity can have on the body.
"I can do bicep and triceps workouts as much as anyone else, but as you get older, there is only a certain amount of tone and shape that you can have."
Wanting to avoid traditional cosmetic surgery, Paula looked for a non-invasive option to address her concerns and found InMode and its BodyTite and FaceTite technology. These technologies represent a paradigm shift in the minimally-invasive aesthetic solutions market.
Dr. Theodorou noted that, "Paula is an excellent choice as InMode's brand ambassador as she is fit and exercises regularly, but has some areas that trouble her due to past injuries and the effects of aging that overtake us all."
InMode's BodyTite system proved the ideal option to sculpt and remodel Paula's arms while the FaceTite and Morpheus8 handpieces addressed her lower face, jawline and neck. Unlike more extensive cosmetic surgery, which requires general anesthesia, InMode's minimally-invasive BodyTite/FaceTite technology needs only local anesthesia.
BodyTite is a safe, minimally-invasive cosmetic surgical procedure that offers efficient removal of stubborn fat and cellulite reduction along with noticeable skin tightening effects. The FDA-cleared BodyTite liposuction device delivers RF energy to liquefy subcutaneous fat so that it can be easily removed. It also coagulates the blood vessels, and tightens the skin, while leaving the surrounding tissues unharmed. Similarly, FaceTite is a non-invasive RFAL (Radio-Frequency Assisted Lipolysis) facial contouring solution that provides superior internal and external liposuction and allows three-dimensional remodeling of the fibrous tissues.
Benefits of these treatments include: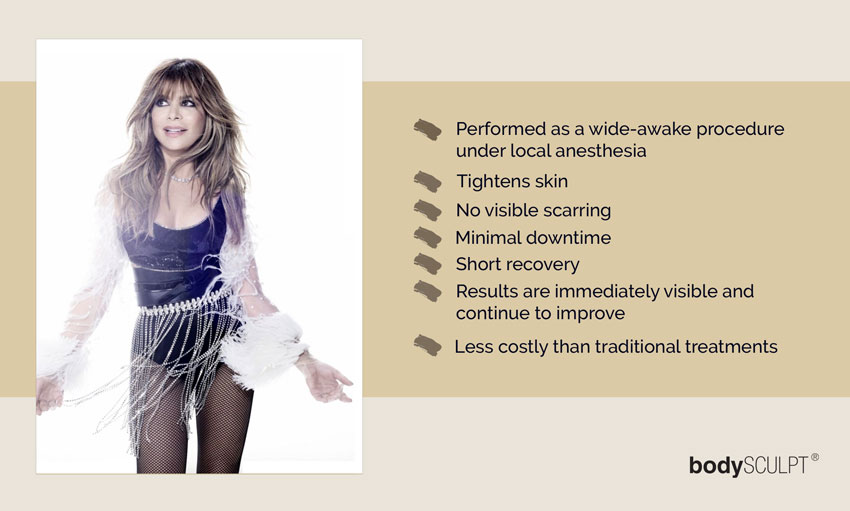 Excited by her results, Paula wants to share what the BodyTite/FaceTite procedure did for her and can do for others.
She said,"I am proud to get the word out about what InMode's amazing technology in face and body rejuvenation can do for people like me who notice the inevitable effects of natural aging. While maintaining a healthy lifestyle of fitness and skincare routines, I still wanted more definition and tighter, firmer skin at my jawline and arms – and InMode's BodyTite and FaceTite helped me restore a sleeker, more youthful look without invasive cosmetic surgery. I am very pleased with the results!"
According to the press release, Paula is bringing her renewed feeling of confidence and self-assurance to others who want the same benefits.

Leading NYC plastic surgeons Drs. Spero Theodorou and Christopher T. Chia of bodySCULPT in NYC are inventors of BodyTite on Arms, a scarless arm lift procedure. This is an innovative technique used to enhance the contour of your arms under local anesthesia to tighten and remove the excess skin under the arms, without leaving any scars.
Similarly, invented by Dr. Theodorou in conjunction with InMode, two powerful technologies from InMode – FaceTite and Morpheus8 are combined together for a breakthrough procedure EmbraceRF that uses RF energy to get rid of unwanted fat in the lower face. This unique one-time facial rejuvenation solution effectively treats the subdermal adipose tissue of the face. The procedure treats skin laxity and excess fat accumulation in the face and neck area caused by factors such as aging, genetics, weight gain and loss, sun exposure and gravity – without surgery.
Shakil Lakhani, president of InMode North America, adds, "We are thrilled to announce a strong and powerful woman like Paula representing our brand. Paula has an ageless presence and embodies InMode's commitment to enhance beauty and well-being. This collaboration will ensure a greater audience is aware of the benefits of InMode's technology on a national and global level."