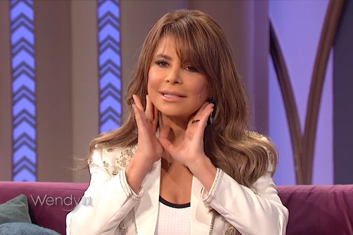 International pop icon and brand ambassador of InMode, Paula Abdul is in the news for sharing her cosmetic treatment experiences with the company's minimally invasive technologies FaceTite and BodyTite. Paula is all praise for these modalities that helped to sculpt her face and arms before the launch of her Las Vegas Residency, "Paula Abdul: Forever Your Girl".
Recently, on Yahoo Entertainment, Paula recalled her groundbreaking African choreography in 'Coming to America's famous wedding scene, which she referred to as one of the things she is most proud of.
"To this day, a lot of people don't know that I choreographed Coming to America," said Paula.
Paula recalled how John Landis, the director of 'Coming to America' wanted to meet with the girl who choreographed Janet Jackson. She was still choreographing for the Lakers and Janet Jackson when she got the call from him. Vying for the job and keeping her true age as a secret, when she was turning 18, she managed to convince the director to give her a shot. She knew she had to prove herself as John Landis thought she would be older and more experienced.
Having grown up in the L.A. suburbs of the San Fernando Valley, Paula had to do her research well to create a credible African dance routine worthy of the big screen. This was quite challenging as back then "there was no internet, of course – so no YouTube" that she "could make reference and look up. She relied on library and periodicals and created her own style of choreography, which she thought would be right for the movie. The director loved it"!
Though she has many achievements of which she could be proud, Paula's 'Coming to America' wedding choreography was special. She says, "There were lots of intensive rehearsals, and it was hardcore; it was a lot of work. It was not an easy thing to accomplish, but it's one of the things I'm most proud of."
Paula also told Yahoo Entertainment that having a residency in Las Vegas had always been on her bucket list. She describes her Forever Your Girl revue as a "celebration of the many facets of my career for the past few decades. I talk about my humble beginnings. I do storytelling with me talking and also storytelling visually through dance. It's just very unique and it's really fun."
Talking about her self-care routine, Paula said that she does lot of physical training to prepare for a show, especially one like her residency. Today, the 57-year-old pop star credits the InMode aesthetic treatment FaceTite and BodyTite and an alkaline diet for keeping her looking practically how she did when she was 18.
Paula has discussed her experiences with InMode's minimally invasive and no scar procedures on several talk shows. She said that these radiofrequency-assisted treatments helped her achieve natural looking results with no visible scarring and little downtime.
Dr. Spero Theodorou, bodySCULPT's leading plastic surgeon who is also the chief medical officer of InMode, invented EmbraceRF which combines two powerful technologies from InMode – FaceTite and Morpheus8 to address aging concerns in the lower face. This unique one-time facial rejuvenation procedure treats skin laxity and excess fat accumulation in the face and neck area – without surgery.