The book "Emerging Technologies in Face and Body Contouring," written by bodySCULPT plastic surgeons Dr Spero Theodorou and Dr Christopher Chia is available at Thieme Website.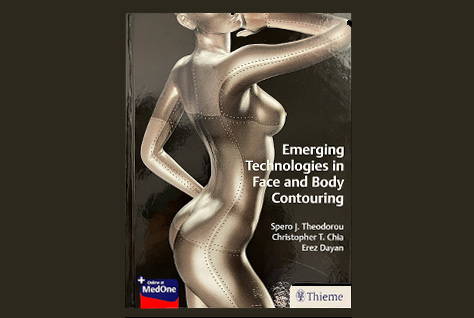 "Emerging Technologies in Face and Body Contouring," the book authored by bodySCULPT plastic surgeons Dr Spero Theodorou and Dr Christopher Chia that discusses the latest emerging state-of-the-art, minimally invasive body contouring technologies, has been published by Thieme Medical publishers, an award-winning international medical and science publisher. This resource provides plastic, aesthetic, and dermatologic surgeons with clinical insights on the latest proven techniques in nonsurgical fat reduction and skin tightening.
In this concise guide to state-of-the-art body contouring, the surgeons describe a diverse array of cutting-edge noninvasive body contouring and VASER techniques, including water-assisted and power-assisted liposuction.
Skilled NYC plastic surgeons – Dr Christopher T. Chia and Dr Spero Theodorou – are co-founders of bodySCULPT®, an AAAASF-accredited plastic surgery practice in Manhattan, NYC. This is the only BodyTite Center of Excellence in New York City. These bodySCULPT surgeons are experienced in performing diverse plastic surgery procedures such as tummy tuck, Brazilian butt lift, fat transfer, breast augmentation, breast lift, face lift, chin lift, and arm lift among others. They are the inventors of the scarless arm lift BodyTite procedure and are pioneers in providing non-surgical treatments with InMode's EVOKE and EVOLVE.
This publication for plastic surgeons and dermatologists offers the latest insights like 3D imaging for emerging body contouring technologies, clinically applicable concepts of fat metabolism, and discussion of laser and ultrasound.
Key Features of this Resource are:
The concise text walks readers through techniques in a stepwise manner, with numerous patient cases and explanations detailing the pros and cons of each modality
Coverage of the latest techniques including Brazilian butt lift surgery, cryolipolysis (CoolSculpting), and diverse radiofrequency procedures
Special topics include the role of stem cells in body contouring, ethnic considerations in liposuction, and male gynecomastia treatment
High-quality illustrations enhance understanding of anatomy and procedures
The chapters in this book are dedicated to procedures for the face and neck, and provide information on scarless face lifting, injection lipolysis, and radiofrequency skin tightening. It also covers techniques for body areas such as the neck, arms, abdomen, flanks and hips, gluteal region, thighs and calves, ankles and knees. Being a practical application of evidence-based technologies, this remarkable resource is dedicated to helping plastic surgeons and dermatologic surgeons improve patient outcomes and ROI.
Get a copy of this guide on https://medone.thieme.com and Amazon.