A leading plastic surgery practice based in Manhattan, NYC, bodySCULPT® proudly announces that their founder and Surgical Director, Dr. Spero Theodorou will be performing live surgery on Tuesday, December 15, 2020 at 11:00am EST for the next installment of InMode's Livestream Surgical Educational Series (Season 2 – Episode 6).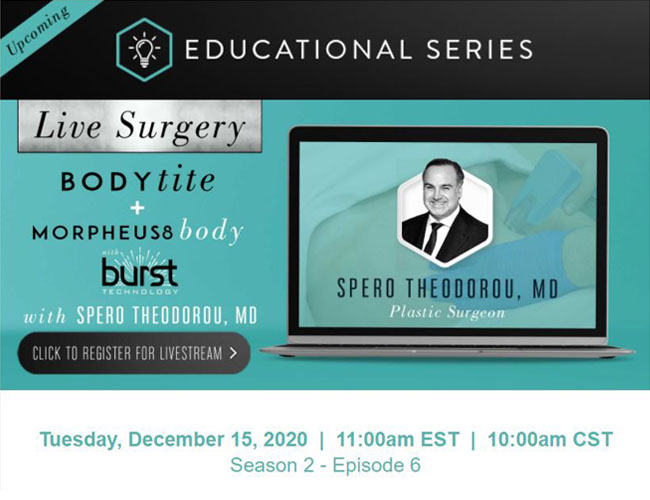 Dr. Theodorou will be performing surgery live from the operating room utilizing cutting-edge radiofrequency energy contouring technology with both the BodyTite and Morpheus8 Body with Burst platforms on Medial and Lateral Thighs on an awake patient. During the live surgery, he will
Narrate his procedure
Review candidate selection
Discuss treatment settings and techniques.
BodyTite is a safe, minimally-invasive cosmetic surgical procedure that offers efficient removal of stubborn fat and cellulite reduction along with noticeable skin tightening effects. The FDA-cleared BodyTite liposuction device uses patented RFAL™ (radiofrequency assisted liposuction) technology and delivers RF energy to liquefy subcutaneous fat so that it can be easily removed. It also coagulates the blood vessels, and tightens the skin, while leaving the surrounding tissues unharmed.
Morpheus8 Body with Burst platform is a groundbreaking, industry-first, fractional technology that automatically deploys bipolar RF energy to multi-level treatment depths in a single cycle. The first and only FDA cleared technology to penetrate tissue with a thermal profile of 8mm, this innovative treatment has the ability to target tissue sequentially at three levels, in millisecond intervals, which allows for a significant reduction in treatment times, minimizes skin injury, increases treatment uniformity, and enables customized full body fractional procedures.
Dr. Spero Theodorou, who is Chief Medical Officer at InMode, is responsible for developing all InMode procedures, clinical studies and training. He received his training in Plastic and Reconstructive Surgery at RUSH St. Luke's Presbyterian Hospital in Chicago, Illinois. Upon completion, he underwent an additional year of training in Aesthetic Plastic Surgery at the prestigious Manhattan Eye, Ear and Throat Hospital's Aesthetic Surgery Fellowship Program, formerly Affiliated with New York University (NYU). The MEETH (Manhattan Eye, Ear and Throat Hospital) Aesthetic Plastic Surgery Fellowship has the distinction of being the oldest aesthetic surgery training program in the country and is internationally recognized in the field of cosmetic surgery. Dr. Theodorou is presently teaching faculty at MEETH and the prestigious ASAPS (American Society of Aesthetic Plastic Surgery), instructing plastic surgeons on the latest body contouring surgery advancements. He also had published several studies on radiofrequency treatments.
bodySCULPT®'s plastic surgeons and support staff focus on quality patient care, safety and comfort so that patients have a pleasant and rewarding experience at the practice.
About bodySCULPT®
bodySCULPT® (www.bodysculpt.com) is an AAAASF-accredited plastic surgery practice with a state-of-the-art surgical center located on 128 Central Park South in Manhattan, New York City. The plastic surgery practice based in NYC, New York, offers a wide range of quality cosmetic surgery solutions for men and women. bodySCULPT® specializes in tummy tuck, Brazilian butt lift, fat transfer, breast augmentation, breast lift, chin lifts, arm lifts and so on. The facility is led by plastic surgeons, Dr. Spero J. Theodorou and Dr. Christopher T. Chia.
Contact Information
128 Central Park South
New York, NY-10019
Ph: 1-800-282-SCULPT (728578)
Email: info@bodysculpt.com
To schedule or confirm appointments, call at 1 800-282-7285 | 212-265-2724