Triton by InMode
An AAAASF-accredited plastic surgery practice in Manhattan, bodySCULPT® provides hair removal treatment using the fast and reliable, best-in-class laser device Triton from Inmode. Triton combines three powerful laser wavelengths on one platform, allowing practitioners to address all skin types and tones. It is the first and only high power laser to offer concurrent multi-wavelength hair removal firing, with simultaneous emissions of Alexandrite, Diode, and Nd:YAG wavelengths.
According to a 2017 survey of the American Society of Aesthetic Plastic Surgery, hair removal is the number one sought after energy-based aesthetic procedure in the world. Today, 80 million women spend over $500 million on shaving, waxing and hair removal options. So why not invest in a safe and effective laser hair removal treatment such as Triton?
Triton's Two Hand Pieces
Triton Duo Light is more effective for light and fine hair, but can be optimized for all skin types, all hair colors and hair thicknesses. It uses the 755 nm Alexandrite and 810 nm Diode laser wavelengths.
Triton Duo Dark is highly effective and safe for dark skin. It uses the 810 nm Diode and 1064 nm Nd:YAG wavelengths.
Triton is so popular because a very high percentage of hair can be permanently removed with the three major laser wavelengths present on one device. This device has a very large spot size and moves quickly along the skin, allowing quick treatment.
How It Works
In the past, lasers had to reduce peak power or increase pulse width to reduce the risk for post inflammatory hyperpigmentation (PIH) in darker skin types. Now with Triton, high power and a blend of wavelengths are optimized to make this the ultimate system for hair removal.
Triton's multi-wavelength functionality allows simultaneous emission of three powerful lasers in a single pulse. Hair removal can be addressed at different stages of the hair growth cycle, without increasing the pulse duration or reducing the peak power. Hair at deeper depths as well as newly emerging hair can be simultaneously treated. This innovative feature makes Triton the best hair removal option for any clinic, enabling the treatment of all hair and skin types without compromising safety or effectiveness.
Patient Benefits
Fast and permanent hair removal
Suitable for light hair or skin, dark hair or skin, fine or coarse hair, medium complexion and thickness, stubborn hair, and large body areas that require quick treatment times
Increased safety and efficacy
Comfortable treatment with pre-, parallel, and post cooling
No pain
Customized treatment
Patients can see greater results in fewer sessions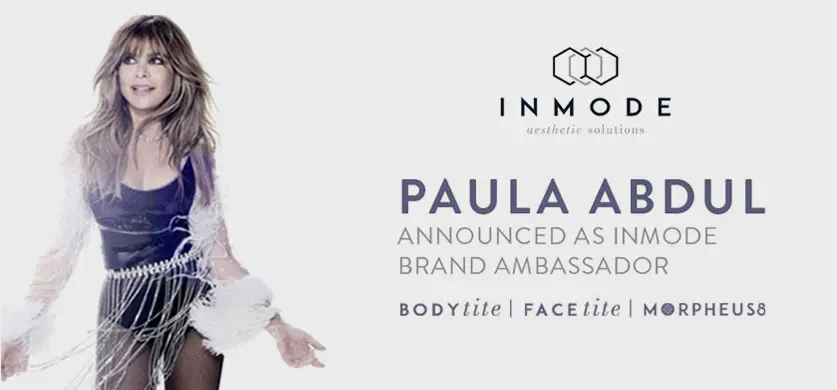 Paula Abdul has been announced as Inmode's Brand Ambassador. This international pop icon will promote the medical device company's aesthetic treatments, including its BodyTite and FaceTite technologies as alternatives to traditional cosmetic surgery. Our plastic surgeon Dr. Spero Theodorou, who is also InMode's Chief Medical Officer, says, "Paula is an excellent candidate for InMode's innovative technology using Radio-Frequency (RF) to provide a natural tighter appearance."
Schedule your consultation at bodySCULPT®
At bodySCULPT®, you are assured end-to-end care and dedicated follow-up until complete recovery. Call 1-800-282-7285 or email us at info@bodysculpt.com for more information about laser hair removal treatment using Triton.