InMode
An established AAAASF-accredited plastic surgery practice in Manhattan, bodySCULPT® stays up-to-date with the latest aesthetic procedures and techniques. We offer a wide variety of non-invasive and minimally invasive technologies from InMode, a leading global provider of innovative, energy-based, aesthetic solutions. This breakthrough suite of innovative technologies and applications help patients achieve* their cosmetic goals quickly, safely and effectively.
Meet Your New Year Beauty Goals with Advanced Treatment Options
InMode's state-of-the-art light, laser, and radiofrequency devices invented by leaders and scientists provide superior satisfaction for both the patient and the physician.
Our plastic surgeons are skilled in using the InMode energy-based technologies to provide superior solutions for:
Skin rejuvenation
Wrinkle removal
Skin tightening
Skin re-modelling
Fat reduction
Body contouring
Cellulite reduction
Hair removal
InMode Technologies We Offer
InMode technologies under diverse platforms are designed to provide the right solution for specific cosmetic issues.
Fractora – This advanced fractional radio-frequency skin resurfacing treatment helps reduce deep wrinkles, improve skin tone and texture, and visibly enhance the skin's appearance. Fractora is also safe for resurfacing on the neck, chest and all other areas of the face, including ethnic skin.
Lumecca – This is a broad-spectrum intense pulsed light (IPL) treatment that harnesses the full power of an IPL photofacial in 1-2 sessions. The procedure improves the appearance of aging skin and corrects pigmentation irregularities to rejuvenate the skin, improve skin tone and reduce cellulite.
Diolaze – Combining high peak power, optimal pulsing and the largest spot size, Diolaze is a superior laser hair removal device that removes unwanted hair painlessly. It revolutionizes the efficiency of hair removal procedures by using a larger treatment spot dimension without compromising speed or efficacy.
BodyFX – This non-invasive body contouring treatment uses heat from radiofrequency waves with vacuum massage, heating up the fat for easy removal and skin tightening. This safe and comfortable procedure is ideal for cellulite reduction and skin tightening.
Triton – The world's first high-powered simultaneous multi-wavelength hair removal device is a fast, safe and comfortable treatment that offers an innovative solution to any practice interested in maximizing the hair removal market. This work station allows practitioners to utilize three of the most popular laser wavelengths for hair removal. While Triton Duo Light is more effective for light and fine hair and for skin types I to III, Triton Duo Dark is highly effective and safe for dark skin up to skin type VI.
Optimas – Optimas is a great suite of innovations in one workstation to help patients achieve their goals. This workstation's full beauty suite has state-of-the-art light, laser, and radiofrequency devices such as Lumecca, Forma, Fractora, Vasculaze, DiolazeXL and Morpheus8 for skin care and hair removal.
Morpheus8 – This is a new subdermal adipose remodeling device (SARD) that fractionally remodels and contours the face and body. It provides extremely uniform effect, with little to no thermal damage to the dermis.
EmbraceRF – This technology is used to performsubdermal adipose remodeling of the face. It combines powerful technologies – FaceTite and the FDA-approved Morpheus8, a Subdermal Adipose Remodeling Device (SARD). It is ideal for those patients who have aging signs, with or without underlying fat concerns.
BodyTite – For patients looking for exceptional contouring and fat coagulation without the excision, scars or downtime, our plastic surgeons recommend this body contouring procedure that provides superior internal and external lipolysis.
FaceTite – With this minimally-invasive contouring solution for the face and small areas of the body, our surgeons can help patients achieve results similar to a facelift or brachioplasty without excisional surgery.
With superior outcomes and shorter treatment times, InMode's aesthetic applications can help you achieve your skin rejuvenation goals easily and effectively. Our surgeons can also combine two or more of these non-invasive treatments to provide desired outcome.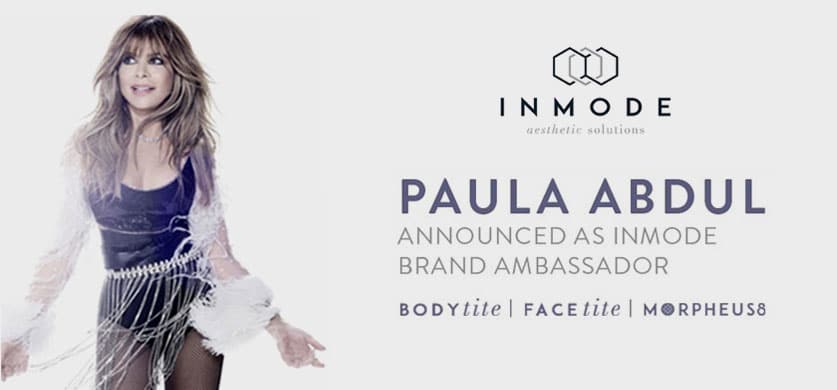 International pop icon Paula Abdul will be brand ambassador for InMode, the medical device company that has invented innovative technology for minimally invasive aesthetic treatments. InMode's BodyTite system proved the ideal option to sculpt and remodel Paula's arms while the FaceTite and Morpheus8 handpieces addressed her lower face, jaw line and neck. Paula is bringing her renewed feeling of confidence and self-assurance to others who want the same benefits. Plastic surgeon Spero Theodorou MD of bodySCULPT in NYC says "Paula is an excellent candidate for InMode's innovative technology using Radio-Frequency (RF) to provide a natural tighter appearance. Dr Spero Theodorou is also Inmode's Chief Medical Officer responsible for the development of all InMode procedures, clinical studies and training.
Advantages of InMode's Industry-leading Technologies
Versatile applications to meet a wide variety of needs
Fast, short duration treatments
Outpatient procedures
Long-lasting results
Little or no downtime
Quick recovery
Superior outcomes
Our experienced plastic surgeons and caring support staff work to make each patient's surgical experience a comfortable and memorable one.
For more information about the procedures we perform with InMode's innovative technologies and workstations or to schedule a consultation with our cosmetic surgeon, call 1-800-282-7285 or send an email to info@bodysculpt.com.