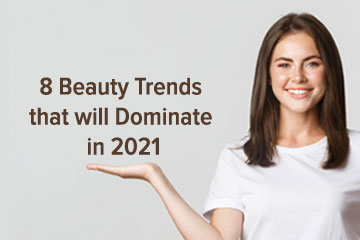 The year 2020 has changed the way we do almost everything – the way we work, shop, and approach skin care. Over the months of lockdowns, people figured out a way to manage and enhance skin care regimens and try new products. Though it is hard to predict what 2021 will look like in terms of cosmetic care, experts have predicted beauty trends that are expected to flourish in 2021.
Improved Hygiene: In the beauty category, changes in hand sanitizer and soap will take precedence. Luxury products have begun to enter the space for the first time. Not only will the scents and packaging be upgraded, but experts say formulations are also set to customized for skin. The year 2020 was the year of harsh sanitizers and soaps. This will change in 2021 as the industry balances efficacy with luxury.
Blue Light Skincare: As people continue to work from home on computer screens, tablets, cell phones, blue light protection will become more and more important. Blue light can cause premature aging from high-energy visible light (HEV light). Companies are coming out with novel products to help combat these effects.
Clean and Transparent Skincare: Survey has shown that skincare brands promoting their ingredients' transparency are getting popular as consumers want to know what is in the products. This has led companies to come up with more durable formulas, whether through packaging, formulations, or eliminating carbon footprint.
Skinimalism: Skinimalism is expected to be a major trend in 2021. It embraces the idea of natural skin and and highlights it. This new movement of natural, minimal or no-makeup beauty enhances what you already have with unique products that promote the natural look.
Barrier-Repair Creams: Possibly in response to the skin stressors, increased use of barrier repair-centric creams was observed over the past year. These creams are restorative, strengthening, and protective in nature. Barrier repair creams protect the skin-barrier by keeping "the good stuff" in and "the bad stuff" out. A weakened skin barrier will be affected by cold weather, certain fragrance additives, etc. and cause redness, dryness, and itching. In 2021, more barrier-repair creams are expected to come into the market to address various skin stressors, such as physical grazes from wearing masks.
Injections: Consumers are performing more research than before on skincare and treatments using the internet and social media. People know what can and cannot be achieved with these treatments. A rise in Zoom calls or video meetings has caused a boom for injectable treatments like Kybella to improve their appearance, and that will continue in 2021.
Maskne Treatments: With mask-related breakouts on the rise, Dr. Elsa Jungman, Ph.D in Skin Pharmacology foresees the prevalence of more gentle skincare products supporting the skin barrier and microbiome (www.yahoo.com). These options will help balance the effect of irritation from mask wearing and frequent cleansing. She also expects development of new treatments for acne, such as bacteriophage technology, which can kill acne-causing bacteria.
Better Sunscreen Technologies: Everyone knows that wearing sun protection creams every day is important to prevent skin cancer and to fight the visible signs of aging. In 2021, you can expect to see the best SPF products get even better. Companies are beginning to produce effective suncreens with the correct ingredients for superior UV protection.