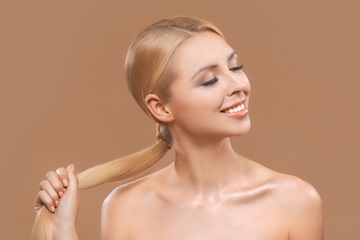 We all know that the summer sun is bad for our skin and we take precautions to protect it. But do you also know that harsh sunlight is equally bad for your tresses too? Yes, summer is the most damaging season for the hair. The heat of the summer months can cause dry, rough hair, leaving it looking limp, dull, and lifeless. Overexposure to the sun rays causes weathering and oxidative damage to hair and makes it dry, brittle, and stiff. A healthy hair care routine can help protect your tresses in summer.
Here are 9 natural methods that you can adopt in your hair care routine.
Cover up your hair: Wear a brimmed hat or cover your hair with a scarf when you step out in the sun. This provide extra UV protection to your hair and also help the scalp retain its moisture. Using a hat also reduces damage caused by wind, especially if your hair is prone to tangling.
Style your hair comfortably: It's a fact that natural hair rules in the summer. Instead of tight hairstyles, that can be damaging especially if your hair is dry from the summer heat, opt for a loose, comfortable hairstyles styles. This would keep your hair under control and protect your hair from external damage.
Give your hair an overnight treatment: Pamper your hair with an overnight treatment by applying a leave-in conditioner on your tresses from roots to ends and wrap a towel around your hair – leave it in overnight and wake up in the morning with soft, smooth hair.
Don't wash your tresses frequently: Keep washing your hair to a minimum, as frequent washing can strip it of its natural oils and cause it to become too dry. Also, don't overdo shampooing your hair in summer. Use a mild shampoo and apply a rinse-out moisturizer to restore moisture and life in your tresses.
Avoid chemical treatments: Hair dries out more easily in summer and is one of the main reasons for hair damage. To avoid this, make sure you limit your use of chemical hair treatments (coloring, straitening and so on) in the warm weather.
Hair too needs some form of sunscreen: You might be very familiar with body and face sunscreens. However, for your hair protection, think about hair sunscreens too. You should use hair products with sun protection, especially if your hair is colored. Shield your hair with a hair care product that contains UV filters. Or else, as mentioned earlier, you can use a hat, scarf. or a large head band.
Trim your hair: According to WebMD, hair grows faster in the summer because there are more hairs in the anagen phase or growing stage during late spring and summer than in the dead of winter. So, trim your hair to get rid of split ends and for a well-groomed look.
Keep aside your hair- styling equipment: Reduce the usage of a blow dryer, s styling iron, and curlers, as too much of heat can harm your hair. Let your hair air dry after a wash.
Stay hydrated and eat healthy: While following all the above tips to protect your hair from the sun, if you are not drinking enough water, you are not going to get any positive results. Staying hydrated and eating is also important for a healthy mane. Drink lots of water and also include as many fresh fruits and vegetables in your diet as you can.