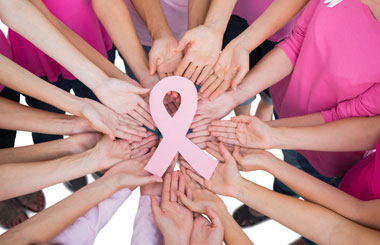 Breast cancer is one of the most common cancers found in American women, other than skin cancers. So, to increase awareness regarding this, October is observed as National Breast Cancer Awareness Month (NBCAM) (October 1-October 31). NBCAM is an annual international health campaign organized by major breast cancer charities every October to increase awareness of the disease and to raise funds for research into its cause, prevention, diagnosis, treatment and cure. The campaign also offers information and support to those affected by breast cancer. This awareness campaign was founded in 1985 in October as a partnership between the American Cancer Society and the pharmaceutical division of Imperial Chemical Industries.
According to the U.S. Department of Health and Human Services, about one in eight women born today in the U.S. is likely to develop breast cancer at some point of time, because currently, the average risk of a woman in the United States developing breast cancer sometime in her life is about 12%. Breast Cancer Awareness Month helps to increase attention and support for the awareness, early detection and treatment as well as palliative care of this disease. One of the major aims of NBCAM from the beginning has been to promote mammography as the most effective weapon in the fight against breast cancer, because the prerequisite is early detection. Such awareness programs can help many women fight and survive this particular disease because they become knowledgeable about early detection procedures and how symptoms can be managed successfully with advanced treatments.
Let's look at certain common myths that exist about breast cancer, and the actual facts.
Myth 1.
Breast cancer is hereditary:
Many people believe that a woman who has a family history of breast cancer is more likely to get this disease in future. But the fact is that only about 5% to 10% of breast cancers are considered hereditary, which means they are caused by abnormal genes passed from parent to child. Lifestyle and environmental factors can have an impact on breast cancer risk.
Myth 2.
All lumps are cancerous:
A lump is not always cancerous, in fact only a small percentage of breast lumps turn out to be cancer. But if you find a lump in your breast don't ignore it, instead visit a physician for a clinical breast exam. It's always good to be concerned in such matters; with the help of breast imaging studies your physician can figure out whether the lump is dangerous or not.
Myth 3.
Bras can be a reason for breast cancer:
According to healthline, a 2014 study showed no significant difference in risk of breast cancer between women wearing and not wearing bras with underwire. The connection between bras and breast cancer isn't supported by any reputable, peer-reviewed epidemiological journal.
Myth 4.
Antiperspirants and deodorants cause breast cancer:
The U.S. Food and Drug Administration doesn't have any proof that ingredients in underarm deodorants and antiperspirants cause cancer. Moreover, there is no significant evidence to support the claim that antiperspirants cause breast cancer, either due to toxin buildup or aluminum exposure, because according to the National Cancer Institute, no scientific research has shown that use of deodorants or antiperspirants results in breast cancer.
Myth 5.
Only women get breast cancer:
Breast cancer occurs almost entirely in women, but men too can also get breast cancer. Even though breast cancer in women is approximately 100 times more common than in men, according to healthline, the American Cancer Society estimates that about 2,550 new cases of invasive breast cancer in men will be diagnosed in 2018. Men should also check themselves periodically by doing a breast self-exam while in the shower and report any changes to their physicians.
Early detection of breast cancer is important to avoid further complications. According to the National Breast Cancer Foundation, "when breast cancer is detected early and is in the localized stage, the 5-year relative survival rate is 98%. Early detection includes doing monthly breast self-exams and scheduling regular clinical breast exams and mammograms."