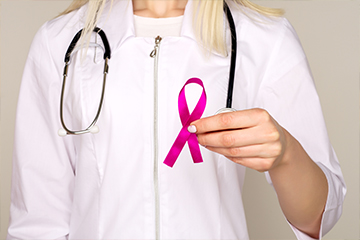 Not only older adults, those with serious health conditions such as breast cancer are also at a higher risk of severe illness if they get COVID-19.  Breast cancer is the second most common cancer among women in the United States. According to BREASTCANCER.org, for women in the U.S., breast cancer death rates are higher than those for any other cancer, besides lung cancer.
Those with weak immune systems or lung issues have a much higher risk of serious complications if they become infected with this virus. Some breast cancer treatments such as standard chemotherapies (Taxol, Taxotere, Cytoxan and carboplatin), certain targeted therapies (Ibrance, Kisqali, Verzenio and Piqray) and immunotherapies can weaken the immune system and possibly cause lung problems.
Those receiving breast cancer treatment during the COVID-19 pandemic must keep these things in mind (BREASTCANCER.org) –
People with breast cancer can also get a COVID-19 vaccine. The vaccines can be used in people with weakened immune systems, including those being treated for cancer. Though experts recommend COVID-19 vaccine for most people with cancer or a history of cancer, make sure you discuss with your doctor and follow his/her instructions on whether to get vaccinated or not.
The virus is really contagious and the main way it spreads is through close contact with others. To prevent infection, make sure to continue frequently washing your hands and not touching your face in public.
While the common symptoms for COVID-19 include fever, chills, cough, fatigue, headache, and sore throat, some severe symptoms that require immediate medical attention include difficulty breathing or shortness of breath, constant chest pain or pressure, confusion/inability to awaken and bluish color in the lips or face.
If you experience any symptoms that you suspect as those of COVID-19, take medical help. If you are receiving treatment for breast cancer or taking any treatment that can suppress the immune system, it is important to let your doctor know your condition and take advice. Before showing up at a doctor's office, call the doctor and discuss the symptoms you have, so that they can take necessary precautions to prevent exposure to others.
In case you are sick, protect others by – staying at home, separating yourself from others, covering your mouth and nose when coughing or sneezing, monitoring your symptoms and temperature, and wearing a face mask when around others.
The best way to avoid becoming sick from COVID-19 is to get vaccinated. Those not vaccinated should follow recommended social distancing practices such as – staying at home; avoiding public spaces, public transportation, unnecessary travel and social gatherings; working from home; avoiding physical contacts; and staying at least 6 feet away from people in public.
To protect yourself and help reduce the spread of the virus, it's important to listen to health experts who recommend staying at home, limiting contact with others, wearing a mask when you are around people, following other precautions, and getting vaccinated when and if you can.
Staying alert and up to date with the current COVID-19 scenario, especially in the area where you live and maintaining social distancing practices can help you stay safe from this contagious virus to a great extent.