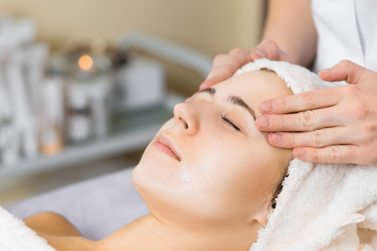 Wondering how to take care of oily skin? Greasy, oily skin tone is a common cosmetic concern. People with oily skin know the perpetual struggle of dealing with extra shine and greasy skin all day long. Having oily skin, means your skin has overactive sebaceous glands that produce more oil than what your skin requires. This makes the skin appear more greasy and shiny, especially in the T-zone area. In certain cases, excess oil production can be caused due to climate change, hormones, genetics, diet, stress or even the wrong skincare product. Following a well-curated skincare routine can help oily skin appear less greasy by controlling the excess sebum production. Identifying the exact causes and treatment for oily skin and following a proper skincare routine will reduce common concerns such as acne, blemishes, blackheads, and pigmentation. Discussed below are 5 skin care measures for oily skin –
Cleanse – Cleansing is the first and most important step of any skin care routine. Most people cleanse or wash their face in the morning and night and is especially important for those with oily skin. Do a complete cleanse in the morning. While sleeping, your skin sheds cells and produces oils that can trigger a breakout and make your skin look extra shiny. Use a product that suits oily skin such as a gel-based or foam-based mild cleanser to thoroughly cleanse the face without drying out the skin. Try selecting salicylic acid based cleansers as they work the best when it comes to oily acne-prone skin. These cleansers go deep inside the pores and eliminate all the excess grime and sebum clogged inside them. However, avoid using it more than twice a day.
Use a toner – Toners help can cleanse the leftover dirt and sebum inside the pores. A good quality, alcohol-free toner will balance the skin's pH levels and promote a glowing appearance. An exfoliating toner should contain salicylic acid, glycolic acid and lactic acid. Choose a non-fragrance formula that can soothe and refresh your skin.
Treat your skin – This step depends on the specific skin concerns a person has. Generally, if your skin is prone to acne, using benzoyl peroxide or sulfur in the daytime can help curb oil production and prevent breakouts. In the evening, use a retinol product as this is great for reducing the look of wrinkles and can also smooth the skin's texture. Retinol can also treat acne and make your pores look smaller.
Moisturize – Moisturizing is a very important step if you have oily skin. Even though all skin types need moisturizer, with oily skin, you should be extra careful with what kind of moisturizer you're using. While choosing a moisturizer for oily skin, choose a 'non-comedogenic' and 'oil-free' A lightweight gel formulation that is infused with humectants like hyaluronic acid and glycerin are best for oily skin.
Apply SPF – Layering on sunscreen is an essential part of the day time skincare routine. One of the top reasons people with oily skin avoid wearing SPF is due to its sticky and greasy formulation. Using a gel or powder sunscreen that leaves your skin looking matte is an ideal solution. Try a mineral-based product (containing zinc or titanium dioxide) that absorbs oil.
Problems with oily skin are usually manageable. Following a proper skin care routine can help minimize shine, unclog pores, and reduce oil production. Make sure to stick to products that are particularly designed or go well with oily skin. Try to avoid products that are comedogenic since they can block your pores. You won't get results overnight and it can sometimes can take weeks or even months to see a major difference. Talk to your dermatologist if you aren't seeing any improvements after a few weeks. An expert will recommend the right treatments and products to suit your skin.