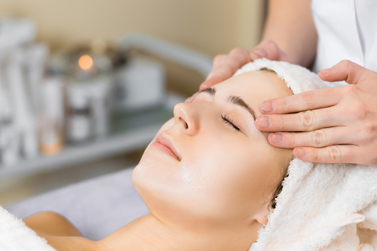 A beautiful-looking, glowing skin can make a positive impact on your overall appearance. However, not everyone is blessed with attractive, healthy skin and you may have to put in serious effort to achieve and maintain good skin. We hear many suggestions regarding what to do and what not to do when it comes to a comprehensive skin care package. Here are some effective steps you can include in your skin care regimen to see noticeable results.
Clean-ups can help you achieve and maintain a healthy, glowing skin. A regular monthly clean up is recommended for best results.
Getting rid of dead skin cells is important to keep your skin fresh and youthful. Exfoliation is an effective method to get rid of dead skin cells and bring out new healthy skin.
A good facial is a combination of massage, cleansing, scrubbing and face mask. It can be repeated once in 3 months for continued results.
Applying regular moisturizers will help you avoid dry skin. Glycerin is a natural moisturizer and using a soap that has glycerin as an ingredient is a great option.
All skin care products may not be ideal for every skin type. There can be ingredients that some people are allergic to. So make sure that the product you choose has no ingredients that are harmful to your skin.
Regular oil massage is very good for your skin health. It increases the skin's elasticity and prevents the formation of wrinkles and fine lines.
Make it a habit to apply sunscreen whenever you go out. Apply it about 15 minutes before you go out into the sun. A sunscreen with a minimum of SPF15 is the right choice as it prevents the penetration of harmful UVA/UVB rays.
Just like what you apply over the skin, what you consume also matters a lot. So see that you eat healthy and have enough vitamins to maintain a healthy skin.
Drinking plenty of water is very important to keep you hydrated. Make it a habit to drink plenty of water as it is a natural detox agent.
Good sleep is another very important factor when it comes to skin health. So make sure that your body gets ample rest.
Consider all these factors when you set up a skin care regimen and experience a positive change in your overall appearance.