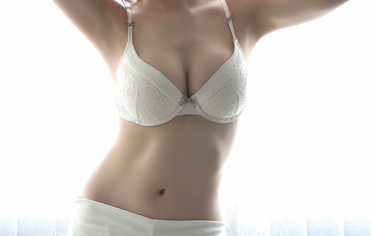 Beautiful looking breasts improve a woman's overall appearance, make her look good in her clothes, and enhance her self-confidence. Here are some natural ways to make your breasts look beautiful:
Wear a bra that fits properly: Using the right bra is essential for the health of your breasts. It should avoid staffing of breasts and should be supporting your breasts. However, take it off during sleep and allow them to breathe.
Improve blood circulation: Do you take a shower with lukewarm water? Then make it a practice to splash some cold water on your breasts after the shower. This will stimulate circulation of blood and tighten the tissues.
Sleep on your back: Avoid sleeping on your stomach as it can cause development of wrinkles on the breasts. So sleep on your back whenever possible.
Workout: Do workouts that can specifically improve the appearance of your breasts. This includes pull-ups and push-ups which will keep them firm and delay sagging.
Massage: Therapeutic massage can improve firmness and overall breast appearance and health.
Maintain good posture: Maintain good posture by keeping your back straight.
Last but not least, watch your weight. Excessive weight gains and losses affect the elasticity of the skin and lead to loss of firmness. Exercise and stick to a wholesome, nutrient-rich diet.