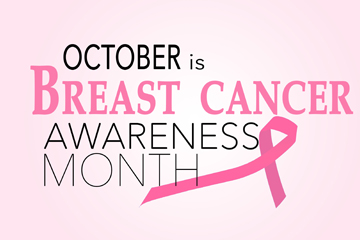 October is National Breast Cancer Awareness Month (NBCAM). This annual campaign is organized to highlight the importance of early detection and treatment of breast cancer, one of the most common cancers found in American women.
According to the American Cancer Society, about 1 in 8 U.S. women (about 12%) will develop invasive breast cancer over the course of her lifetime. In 2019, an estimated 268,600 new cases of invasive breast cancer are expected to be diagnosed in women in the U.S., along with 62,930 new cases of non-invasive (in situ) breast cancer. Breast Cancer Awareness month is celebrated with the aim to reduce these numbers. The campaign starts on October 1 and ends on October 31.
NBCAM was founded in 1985 in October as a partnership between the American Cancer Society and the pharmaceutical division of Imperial Chemical Industries. The aim of the NBCAM from the start has been to promote mammography as the most effective weapon in the fight against breast cancer. As part of NBCAM, the third Friday in October is observed annually as National Mammography Day. This year, National Mammography Day falls on October 19.
Mammography is specialized medical imaging that uses a low-dose x-ray system to see inside the breasts. The procedure takes about 20 minutes. A mammography exam or mammogram plays a key role in the early detection of breast cancer and can save lives. Early detection is crucial to prevent the spread of the disease, or at least, minimize its progression. It can detect and diagnose breast disease in women experiencing symptoms such as a lump, pain, skin dimpling or nipple discharge. Here some important things you should know about getting a mammogram:
Before getting a mammogram, discuss any recent changes or problems in your breasts with your healthcare provider.
Discuss any medical history that could affect your breast cancer risk-such as surgery, hormone use, breast cancer in your family, or if you've had breast cancer before.
If you have a choice, use a facility that specializes in mammograms and does many mammograms a day.
Try to visit the same facility every time you want this test, as it is easy to compare your mammograms from year to year and get a proper idea of your condition.
After discussion with your physician, take an over-the-counter anti-inflammatory such as ibuprofen or acetaminophen before your mammogram to reduce discomfort.
Scheduling your mammogram when your breasts are not tender or swollen (the week just before your period) could reduce discomfort and also provide good pictures.
Don't use any deodorant, lotion, or antiperspirant on the upper part of the body on the day of exam, as it might result in unclear images.
Do a self-exam several days after your period ends. If you no longer have periods, do the self-exam on a day that's easy to remember.
Consult with your physician to determine how often you should get a mammogram.
With the founding of the Breast Cancer Research Foundation in 1993, the pink ribbon was chosen as the official symbol for this campaign. However, the breast cancer awareness campaign is not only about finding a cure or getting a mammogram or raising money. It's about prevention and education and guaranteed treatment for everyone.