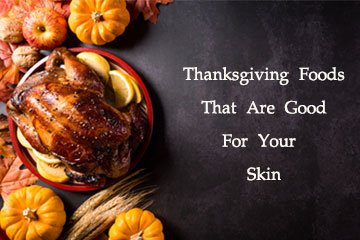 The best thing about Thanksgiving is that dining table filled with a variety of mouth-watering dishes. However, keep in mind that many of those rich, sugary foods can wreak havoc on your skin. The good news is that the Thanksgiving meal includes many nutrient-rich foods that good for the skin.
Holiday Foods that can Nourish your Skin
Turkey: Protein is an essential component to maintain the health of your skin. It is the storehouse of zinc, which is essential for the production of collagen and also rich in Niacin that improves the cellular function of the skin and keeps it moist, reducing the appearance of lines and improving the skin's elasticity.
Cranberries: This fruit is considered as an excellent source of vitamin C as well as anti-inflammatory phytonutrients. Vitamin C acts as an antioxidant that helps to compact skin damage as well as lowers the impact of aging. In addition, cranberries also contain resveratrol that fights effectively against skin acne.
Green beans: Like cranberries, green beans are also an excellent storehouse of vitamin C, antioxidants, vitamin A, vitamin K and manganese. The elements boost collagen production and also protect the skin from sun damage.
Pumpkin: Pumpkin pie is one of the key items in the Thanksgiving meal. Though baked and sweet foods are not good for your skin, pumpkin contains carotenoids and antioxidants that boost the production of collagen. Moreover, it also contains enzymes and anti-hydroxy acids that would increase the skin turnover that results in brighter and smoother skin.
Nuts: Almonds and walnuts are rich with vitamin E and other fat soluble vitamins. They help reduce inflammation and promote clear skin.
Greens: Green leafy vegetables like spinach contain vitamins and nutrients that help to improve skin clarity and also improve the production of collagen. Kale contains vitamin A that reduces wrinkles and improves skin health.
Apple: Apple contains vitamin C and prevents premature aging. Apples are a great source of copper, which helps in the production of melanin and protects the skin from UV radiation.
Other Thanksgiving foods that can help your skin include sweet potato, olive oil, carrots, rosemary, and sage.
Keep in mind that stuffing, cornbread, creamy cheese dip, and salty foods and baked foods can have a negative impact on your skin.