The International Society of Aesthetic Plastic Surgeons (ISAPS) conducted a survey on the number of surgical and non-surgical procedures performed in 2013. Various aspects were analyzed such as category-wise popularity, country-wise popularity and so on. Data from a total of 1,567 plastic surgeons were compiled for this survey. According to the survey results, USA topped the list for the number of breast surgery procedures performed worldwide.
Here are more details on the popularity of breast procedures in the country as per the survey report.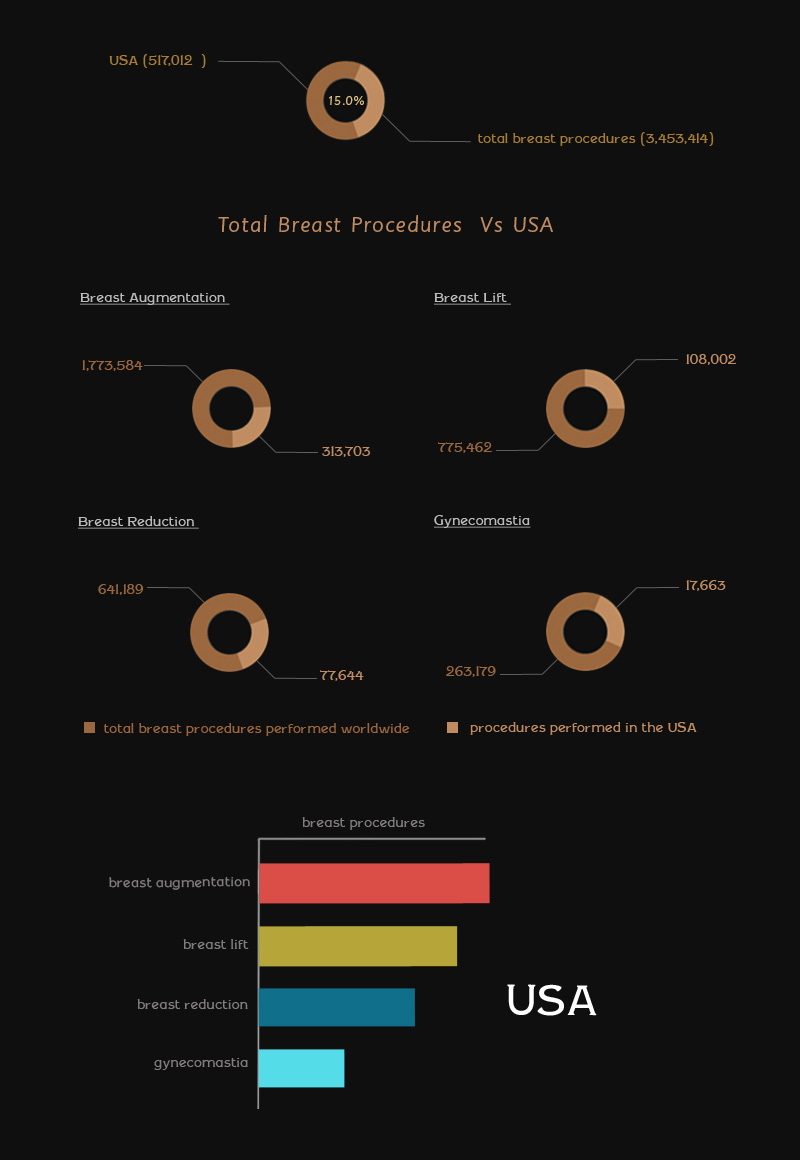 A total of 517,012 breast procedures were performed in the country in 2013.
This covered 15.0% of the total breast procedures performed worldwide, which is about 3,453,414 procedures.
There were 313,703 breast augmentation procedures performed in the USA, which is out of 1,773,584 internationally.
The number of breast lift treatments performed in the country is 108,002, which is out of 775,462 round the world.
The figure for breast reduction procedures in the country is 77,644 when the total figure is 641,189.
For gynecomastia treatment, there were 17,663 procedures performed in the USA out of a total of 263,179 treatments.
USA took the first spot for breast augmentation, second for breast lift, breast reduction and gynecomastia treatments.
The United States occupied the second position for the total number of face & head procedures, and total number of body & extremities. The increase in figures for breast surgery procedures in the USA is largely due to the improved technology available at present, safety and reduced downtime. Moreover, women are also drawn to the attractive aesthetic results ensured. Men show an increased propensity to undergo gynecomastia treatment because it restores their masculine appearance and improves their self confidence.
Breast augmentation continues to be in the top spot over the years and reputable plastic surgery practices offer advanced procedures to meet the varying demands of their patients. Breast implant options range from saline and silicone to gummy bear implants; or they could choose fat transfer when their own fat tissues are used to enhance the breast contour. Composite breast augmentation is another exciting option provided at specialized plastic surgery centers. In this procedure both breast implants and fat transfer are utilized skillfully to provide the best results. Sometimes plastic surgeons recommend a combination of breast lift and augmentation to ensure an enhanced outcome.