The misconception that cosmetic surgery is the prerogative of celebrities, and mostly women, is fast fading. Recent reports say that plastic surgeons report a rise in the number of men who want aesthetic surgery to improve their looks and boost their careers in an environment where youthful good looks and masculinity are prized. More importantly, they believe looking younger and fitter will improve their chances of going up the corporate ladder.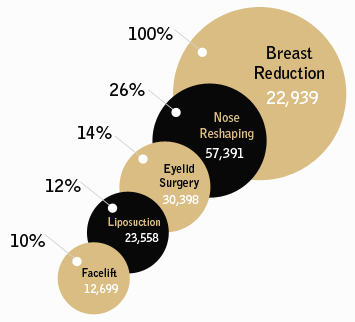 According to the leading plastic surgeons, there has been an enormous increase in the demand for aesthetic surgery among men during the past five years. American Society of Aesthetic Plastic Surgery (ASAPS) statistics show a more than 106% increase in the number of cosmetic procedures performed by men between 1997 and 2012. The American Society of Plastic Surgeons (ASPS) published the following statistics on male cosmetic surgery for the year 2013 (proportion of total procedures in brackets):
Breast Reduction (gynecomastia) 22,939 (100%)
Eyelid Surgery (blepharoplasty) 30,398 (14%)
Facelift (rhytidectomy) 12,699 (10%)
Liposuction 23,558 (12%)
Nose reshaping (rhinoplasty) 57,391 (26%)
Men who want the glossy magazine model look opt for jawline augmentation and hi-def liposuction to exhibit their abs, and gluteal and pectoral implants. Those prefer big chest and glutes that are muscularly defined may have excess fat removed via gynecomastia treatment. This is essentially liposuction to resolve overly large male breasts and achieve a most masculine looking physique. Other men – mostly those in the corporate world – opt for a facelift to enhance their confidence. This may include a necklift, eyelift, jawline recontouring, and liposuction if necessary. Dads their forties are also going in for makeovers to look fitter and more youthful.