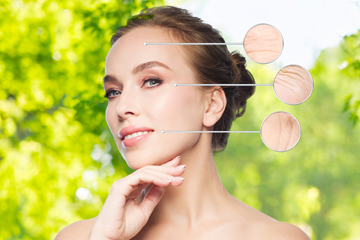 Many people look older than they really are. With today's hectic lifestyles, we really don't get time to take care of our skin even if we want to. The environment and lifestyle habits can cause premature aging. To maintain the skin's youthful appearance and prevent premature aging, you have to incorporate healthy practices in your daily life. Taking care of your skin can prevent premature aging and help you look more youthful and confident.
UV radiation plays a major role in premature aging of your skin. Using sunscreen when stepping out can protect your skin from sun's rays without much effort. Likewise, here are some other tips to slow down the effects of aging on your skin:
Start your day with exercise: Start our day with exercise or exercise whenever you get time. Studies say that exercise

can improve blood circulation and boost the immune system
makes your heart rate goes up and deliverd oxygen and nutrients to the skin which keeps the skin healthy
promotes collagen production, which keeps your skin from sagging and maintains its youthful look
promotes growth of new skin cells which keeps the skin glowing

Follow a well-balanced diet: Eat the right food. Make sure your diet includes fresh fruit and vegetables. This can slow down skin aging. Always try to eat fresh food. It is very important to avoid foods that contain lots of sugar or other refined carbohydrates because this can accelerate aging. Improve the appearance of your skin by including the following foods in your diet:

Papaya
Blueberries
Avocado
Nuts
Watercress
Red bell pepper
Spinach

Cleanse your skin: Gently scrub your skin with a good scrub to remove dead skin cells and dirt. Be careful while scrubbing – your movements should be light, small, circular strokes around your face. Always rinse with lukewarm water. Avoid using hot water as it will irritate exfoliated skin.
Avoid frequent hot showers: Hot showers are good for muscle relaxation. But it has some downsides. Having hot showers can dry out and irritate your skin. It can damage the keratin cells that are located on the outer most layer of the skin – the epidermis. This will disrupt the skin's natural balance of moisture. It can also worsen skin conditions like eczema, and increase BP. So, avoid bathing in hot water frequently.
Avoid using skin care products that can irritate the skin: Buy skin care products to suit your skin type. Stay away from any product that can irritate your skin. Do a patch test on your palm and can wait for 24 hrs or 48 hrs to find whether any irritation occurs. Consider buying products that are free from the following chemicals:

Parabens
Sulfates
Phthalates
Formaldehyde
Fragrance
Alcohols
Phenoxyethanol
PEG (Polyethylene glycols)

Apply sun protection when you go out: It is estimated that 90% of skin aging occurs due to sun's UV radiation. Over exposure to sun damages the fibers in the skin called elastin. When these fibers breakdown, your skin starts to sag, stretch which can cause wrinkles and lose the ability to go back into place after stretching. It can cause dryness, itching etc. Protect yourself from sun by seeking shade, cover up with clothing, using sunscreen (SPF 30 or higher). If it is possible, try all the natural ways to avoid over exposure to sun.

You should use sunscreen throughout the year. UV rays are strong enough all the year round and can cause wrinkles, premature aging and skin damage. Protect yourself from sun depending on your outdoor activities. Don't forget to drink sufficient water when you feel dehydrated due to the heat.

Quit smoking: Smoking triggers and accelerates the aging process. Nicotine will narrow the blood vessels in the outermost layers of your skin. This reduces blood flow and the skin will not get the needed oxygen and important nutrients, such as Vitamin A. This can cause wrinkles, affect collagen production, and lead to a dull and sallow complexion.
Avoid repetitive facial expressions: The underlying muscles contract when you make certain facial expressions. Repeating these expressions for many years will cause permanent lines to form. If you wear sunglasses, you can reduce lines caused by squinting.
Reduce alcohol consumption: Dr. Spizuoco, a board-certified dermatologist and dermatopathologist, points out that alcohol dilates the pores of the skin and it leads to blackheads and whiteheads. In the long term, this ages the skin and cause permanent scarring. It also impairs sleep. It decreases normal cellular turnover and leads to an unhealthy and dull complexion.
Drink required amount of water: Water is essential to maintain optimal skin moisture. It delivers vital nutrients to skin cells and helps replenish the skin tissue and also improve its elasticity. As a result, it delays the aging process like wrinkles and fine lines.
Avoid stress: Stress hormones break down collagen and elastin. Research shows that chronic stress can also increase inflammation and accelerates the signs of aging like wrinkles, sagging, etc.
Wash your face twice a day and after sweating heavily: This one of the important skin care rules that you should never break. Dirt, oil, bodily fluids will accumulate in the body and face when you sweat and clogs the pores. According to American Academy of Dermatology, sweat can irritate your skin, which could eventually leads to wrinkles. So, make sure you wash your face after sweating.
The majority of the factors that cause premature aging are caused by habits. So, it's up to you to decide whether to stay youthful and confident or not. Cultivate and maintain healthy habits to preserve your skin. If aging still bothers you, there are a slew of new non-invasive and minimally-invasive facelift procedures that can help you achieve a youthful appearance.