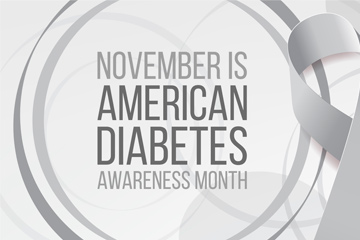 Diabetes is one of the leading causes of disability and death in the United States. If left untreated, the disease can affect every body part and cause serious and life-threatening complications such as kidney damage, nerve damage, amputations and blindness. Every year, the month of November is observed as American Diabetes Month by the American Diabetes Association (ADA) to raise awareness about this chronic condition. November 14 is observed as World Diabetes Day by the International Diabetes Federation (IDF). The theme for American Diabetes Month (ADM) in 2021 is #TheBigStepUp. It is designed to challenge those with diabetes and their loved ones to take the "big step up" for better overall health and a "future without diabetes."
Diabetes is a constant battle, not just for those diagnosed, but for their loved ones, caregivers, and healthcare providers too. According to the Centers for Disease Control and Prevention (CDC), 34.2 million Americans-just over 1 in 10-have diabetes. It is reported that 40% of people who passed away from COVID-19 were living with diabetes.
Let's focus on prediabetes – a serious health condition where your blood sugar levels are higher than normal, but not high enough yet to be diagnosed as type 2 diabetes. According to the CDC, more than 1 in 3 U.S. adults or 88 million people have prediabetes. But what's alarming is majority of people don't know they have prediabetes since there are no clear symptoms. Some people might have symptoms of diabetes or even some complications. With prediabetes, action is the best medicine. This means making small healthy lifestyle changes that can help prevent type 2 diabetes and maybe even reverse prediabetes.
Here are 7 tips that can help prevent, delay or manage prediabetes:
Be Active and Lose Weight: Limit your sitting time and try to be more active. Get at least 30 minutes of physical activity, 5 days a week or at least 150 minutes a week of brisk. If you're overweight, make efforts to lose weight – around 5% to 7% of your body weight, or just 10 to 14 pounds for a 200-pound person.
Choose Healthier Foods: Choose foods that are high in fiber and low in fat and sugar. A good rule of thumb is to fill half your plate with non-starchy vegetables (asparagus, Brussels sprouts, and carrots, among many others), one quarter with starchy foods (like potatoes, corn, or peas) and the remaining quarter with protein – such as chicken, fish, or beans. Limit carbs intake as it can raise your blood sugar. Drink water and avoid sugary drinks.
Get Proper Sleep: Getting the right amount of sleep can help keep your blood sugar at healthy levels. Try to get about 7 or 8 hours of sleep at night. For better sleep, avoid having alcohol or caffeine late in the day, stick to your regular sleep hours, and develop a calm, quiet bedtime routine.
Quit Smoking: According to WebMD, smokers are 30% to 40% more likely to get type 2 diabetes than nonsmokers. If you get diabetes and still smoke, your symptoms may be worse and it may be more difficult to manage your blood sugar. So, quit smoking.
Change Habits Slowly: Making changes to your lifestyle and daily habits can help prevent prediabetes. But don't rush to change everything at once. Take small steps and follow them diligently. Remember that setbacks are normal – what matters most is to get back on track as soon as you can.
Seek Support: According to National Institute of Diabetes & Digestive & Kidney Diseases (NIDDK), it is possible to reverse prediabetes. So make a plan and track your progress. Seek the help your doctor and loved ones to make the necessary lifestyle changes.
Stay Up To Date On Vaccinations: If you are already diagnosed with diabetes or are more likely to get very sick from COVID-19 or the flu, then stay up to date with your vaccinations.
The CDC reports that new diabetes cases have decreased over the last decade – except in people younger than 20 years. In adults, there is much room for improvement in preventing diabetes complications. So let's celebrate American Diabetes Month by taking the Big Step Up towards improving your overall health and learning to thrive despite your diabetes.
Remember early diagnosis, effective treatment and ongoing support and management can reduce the risk of complications associated with any disease and diabetes is no exception.